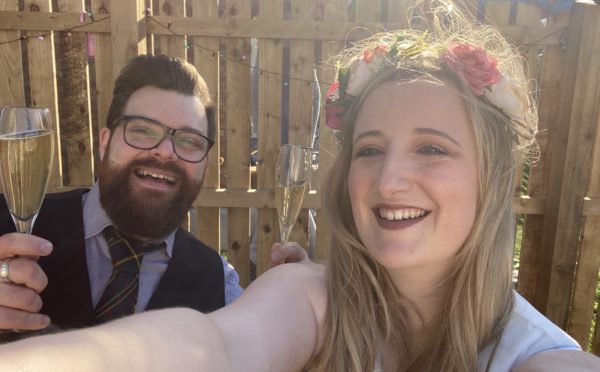 It wasn't the wedding they had planned, but it became a day they will always remember.
When the coronavirus pandemic forced musicians Rua Macmillan and Laura McKinlay to postpone their nuptials, they and their friends decided to mark the occasion in lockdown fashion.
There was a cake, champagne, speeches and guests, but otherwise the "non wedding" was strictly non-conventional.
The bride wore a veil made from a fitted bedsheet, while the groom paired a kilt jacket with tartan pyjamas.
The happy couple feasted on a wedding breakfast of supermarket sausage rolls and chocolate.
Mr Macmillan, who is from Nairn and plays with the traditional band Blazin' Fiddles, met fellow fiddle player Miss McKinlay, from Denny, while studying at the Royal Conservatoire of Scotland.
They were engaged in 2017 and were due to tie the knot on Saturday at the Bogbain Farm wedding venue in Inverness, run by band member Bruce McGregor and Jo de Sylva.
Instead Mr Macmillan played his bride down the "aisle" in their living room in Denny before they took their non-legally binding vows at a make-shift altar decorated with Christmas tree lights.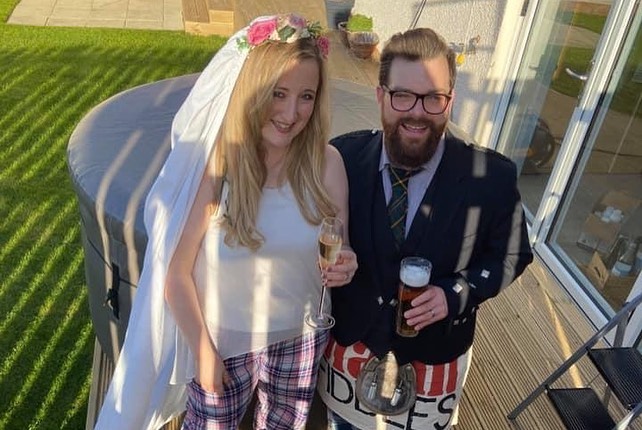 More than 400 people watched the ceremony live online with friends and fellow musicians from as far away at the US and Australia sending congratulations.
Mr Macmillan said: "With everything going on, we thought it would be a good way to bring people together and give them something to look forward to.
"We had all the things you would have at a normal ceremony, just not the legally-binding part.
"The real wedding is going to have to go some now to top it. We've set the bar really high."
After the ceremony, the couple travelled to their back garden for their "honeymoon" where they shared a drink and a take-away with their socially distanced neighbours.
Miss McKinlay, a music teacher who plays with the Kaleidoscope Orchestra, said: "Thanks to the immense skill, generosity, kindness and love from everyone in our lives, we had the most amazing 'Not Wedding'.
"True, it wasn't the original day we had planned, but it will stick in our memories as one of the happiest days we've ever had."