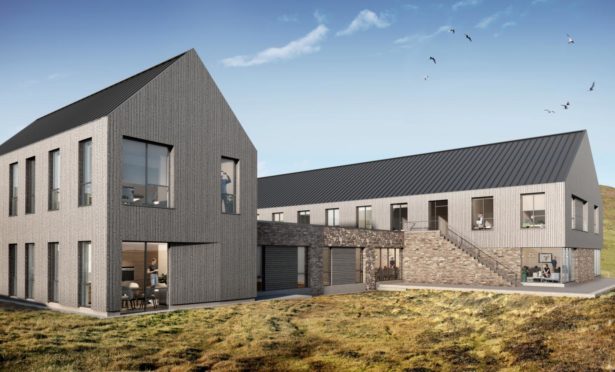 Proposals for a new bird observatory and guesthouse in Fair Isle have reached an important milestone after its rebuild received planning permission.
The trust which runs the observatory hopes to start ground works later this year, although it is aware the coronavirus pandemic could cause delays.
The new building will be located on the same site where the old observatory and guesthouse burned down last year.
It will include 25 guest rooms and will feature a pair of gable-ended two-storey buildings connected by a single storey linking area.
The destruction of the observatory last year caused a huge impact on the remote island – not least because it was a big draw for visitors. No one was injured in the blaze.
The plans for the replacement observatory were put together by mainland-based architect company ICA, which designed the Moorfield Hotel in Brae.
They were given the thumbs up by Shetland Islands Council planners this week.
Its decision notice said: "The proposed development is considered to be appropriate in terms of its location, scale and design and it has been demonstrated that the development will not have a significant adverse impact on the natural environment, nor upon the visual amenity of the surrounding area."
It was also noted that it would "play an important part in the social and economic life of Fair Isle".
Fair Isle Bird Observatory Trust director Karen Hall said: "It's great to have achieved this milestone in the rebuild of the Fair Isle Bird Observatory.
"We'd like to thank the SIC's planning staff and consultees for turning this around in good time particularly given the circumstances we are all working under.
"We are currently developing the funding package and tender documents for construction with the hope to start ground works later this year.
"Clearly the Covid-19 lock down may cause delays so we are having to think about alternative plans and timelines as well.
"Like others, the lockdown restrictions have already affected our core work in that most field work is postponed or even cancelled for the year and our seasonal staff are stuck on the mainland."
The new building, meanwhile, will effectively be the fifth version of the Fair Isle observatory.
The first was opened in 1948, with a new building then opened in 1969 before being extended in the 1980s. The last observatory was built in 2010.