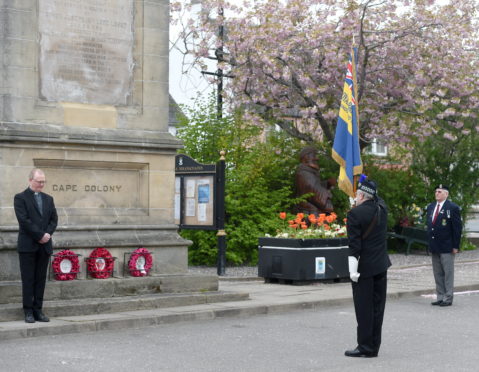 A low-key commemorative service to mark the 75th anniversary of VE Day was undertaken in Beauly, with restrictions surrounding the coronavirus pandemic limiting the number of people allowed to take part.
It was led by just three people as locals, all respecting social distancing conventions, observed from vantage points around the village's square.
The service lasted just over five minutes and included a commemoration from Reverend Ian Manson before a wreath was laid by Trevor Carnall of the Beauly and District branch of the Royal British Legion Scotland.
Police gave the ceremony their approval as long as social distancing measures were adhered to, with participants requested to immediately disperse if a large crowd was to gather.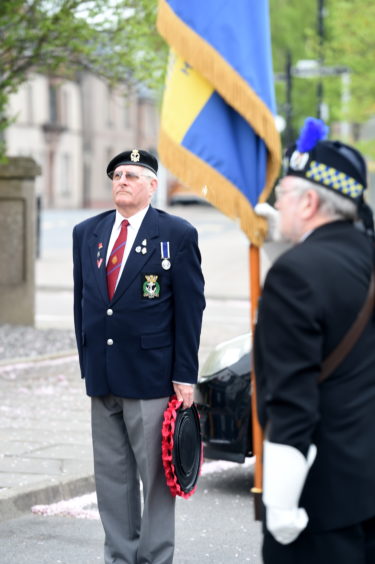 Bob Coburn, chairman of Beauly and District branch, was also the standard-bearer at the event, and said: "We were very pleased to be able to do this as initially we'd been were told there wouldn't be anything, bar online.
"It went very well and those people who attended were very respectful and kept their distance."
A larger national event had been planned to take place in Edinburgh to make the 75th anniversary, but that event was cancelled as a result of the restrictions on mass gatherings to curb the spread of coronavirus.
Mr Coburn said commemorative events must continue to ensure the sacrifice of servicemen and women over the years is never forgotten.
He added: "We must hold commemorative events like this. It is not celebrating, it is commemorating.
"I thought it was great that people were celebrating VE Day but we must remember there were a lot of sad people too because of the people who didn't come back.
"It is them we have to remember.
"I always think we use the word hero a little too much, but all these people deserved it."