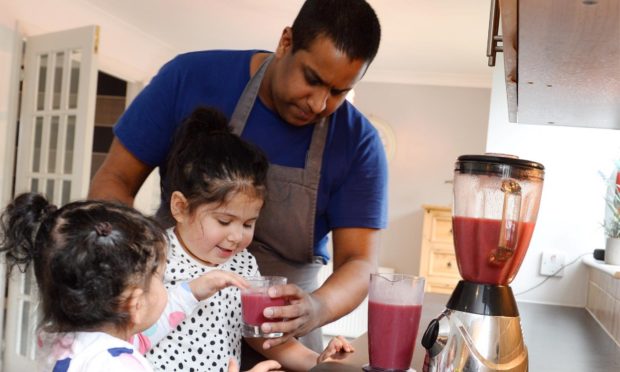 A private chef is using his time at home during lockdown to pass on his culinary skills to his six children.
Johan Sikkema would normally be cooking up anything from barbecues to lavish banquets for his international clients from his home in Inverness.
But as his work has temporarily dried up, he is making the most of his time at home by teaching his children some basics in cooking and healthy eating.
Mr Sikkema, 35, said: "I find that if you get the kids involved in cooking the food they become more interested in eating it.
"They did get a bit rowdy and jumpy at dinner time, but now I've got them involved in preparing and cooking the food. They are really enjoying it and I think some of them may want to follow in my footsteps."
The former Culloden House Hotel chef began working for himself last year. While his menus offer a wide variety of choices, his clients often seek Scottish produce, such as Aberdeen Angus beef, lamb, salmon and cranachan.
During lockdown he is at home with his wife Nicole their children Daniel, 14, Frankie, three, Lottie, who is two this week, and three-month-old Theo, while Johan's children Jayden, ten, and Leilan, 12, live part of the week with the couple.
Their menus include porridge for breakfast, healthy fruit and veg snack plates for lunch and homemade fish and chips, shepherd's pie or lasagne for dinner. The children are also helping make a chocolate cake for Lottie's birthday.
Johan added: "At the moment I have no work at all and the only thing I could do was to think ahead and make up menus for when I can start again.
"I'm ok financially for the time being but I want to work and keep my mind stimulated. That's why I'm still cooking and passing on my knowledge at the same time to the children. Mentally I feel better by keeping myself occupied and excited about food.
"My wife is also loving it as she is having breakfast, lunch and dinner cooked by a professional chef every day. Who wouldn't want that?"