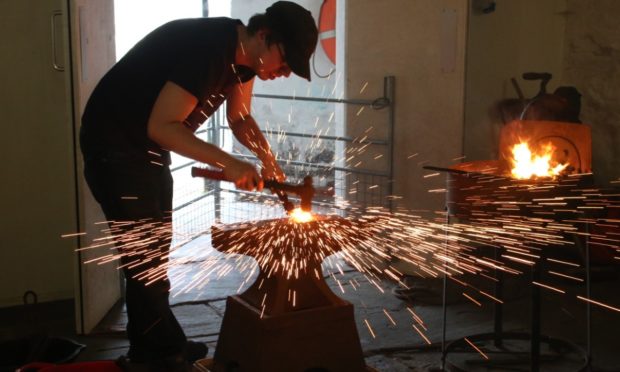 After three months spent at sea, Bryden Jacobson is longing for home.
And who can blame him, with a croft in the Shetland village of Selivoe waiting on his return.
At 22 years old, Bryden has already travelled widely thanks to his job as an engineer on gas tankers.
His work can take him almost anywhere, yet there is something about Shetland which always seems to lure him back.
The island has an undeniable rugged beauty, but the appeal runs deeper for Bryden – who is normally home for two months before going back out to sea.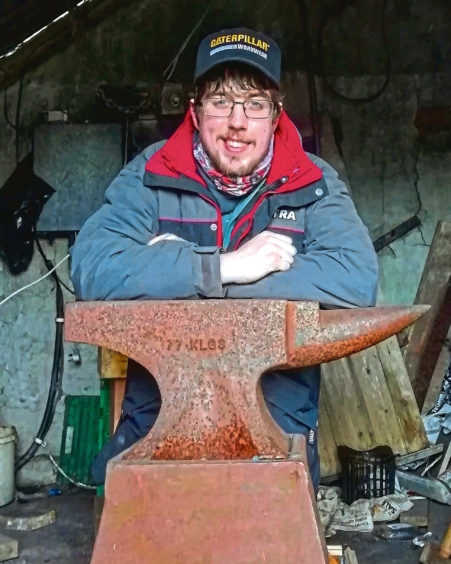 His heart is in Brokkr Forge, where he has been honing his craft for the past five years.
From YouTube videos to learning from a handful of mentors, Bryden is a first-generation blacksmith.
Unlike those who follow their grandfather into the traditional industry, he struck out on his own thanks to his passion for ironwork.
He now juggles two jobs, his work on tankers in contrast to the beautiful commissioned pieces forged from metal and fire.
Thanks to social media, word of Bryden's talent has quickly spread – far beyond Shetland – to the extent that he now hopes to build a bigger forge.
Here, Bryden explains how it all began and why forging has moved with the times:
I come from a seafaring background, there are no blacksmiths in my family.
I was obsessed with watching Fred Dibnah on the TV though.
He did these programmes which looked at steam engines and traction through the ages.
I was fascinated by the numerous forging processes involved.
How can steel transform from a bar to a tool, or become a piece of machinery?
My interest was really sparked when I decided to study engineering at college.
I messed about with forging. I had a block of steel, a hammer and an old stove.
I wasn't sure what I was doing, and I steadily grew more serious about it. So I decided to try and make a forge.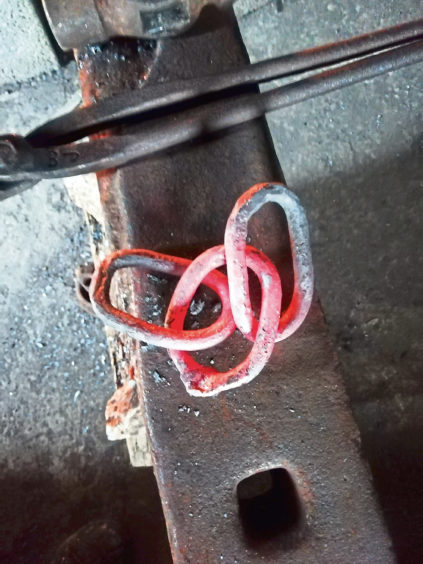 It took off from there, after I built my own coal forge.
I decided on coal because it's far more simple than gas.
I took an old house boiler, cut the middle out and took the fuel pump off the burner.
I was left with the fan and then I put a false bottom in it.
Finally I put a pipe underneath for air to blow up through the coal.
I am largely self-taught, until I came across master blacksmith Bruce Wilcock.
He came from Sheffield originally, but now lives on Shetland.
His hammers sell all over the world, his talent is incredible.
The amount of knowledge Bruce has passed on to me, it's like gold.
YouTube has also been quite helpful as well.
A few people told me that I should show what I have been making on social media.
It went from there really.
A lot of blacksmiths have moved with the times and use social media very effectively.
People started asking me if I could make them things.
It was handy because I work at sea as my full-time job.
I'm on gas tankers and I can be sent anywhere in the world.
I don't like to sit idle when I come home for two months, so working in the forge has become a bit of a part-time job.
I'm going to build a bigger workshop, that's next on my list.
I've been asked to make a few tools.
I was also approached by the museum, the curator asked me to make him some pieces for some of the boats.
Then there's commission work; one of my favourite pieces was a bird feeder stand.
It included a little replica bird, a humming bird.
I love being able to take a bar of steel and make it into something
If you know what you're doing, you can make anything.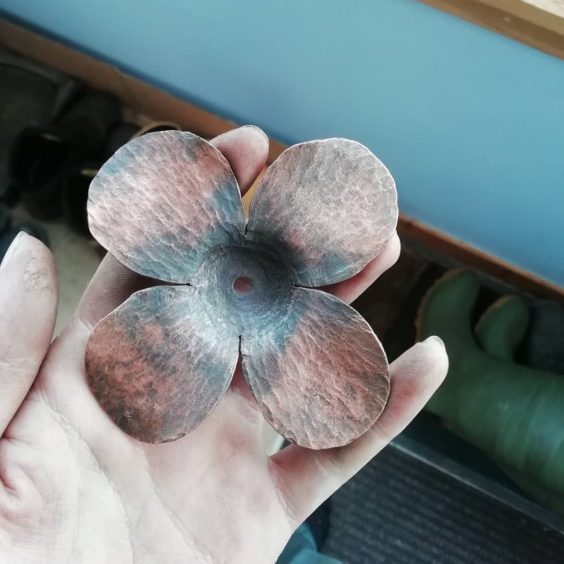 You just need to know how.
I love that feeling of taking a look at something for somebody, and thinking yeah, I can make that.
I tend to work with the colour of the metal as opposed to the temperature.
I couldn't honestly tell you how hot it gets.
I've not had any injuries yet, the occasional slight burn.
I don't consider myself particularly young as a blacksmith, and plenty of blacksmiths are women.
There are the time-served guys of course, who have been in the industry for years.
Or you can do an apprenticeship if you're starting out at the beginning.
When it comes to the future, I'm really hoping to branch out across the island and make a go of things.
There's always a need for forging, and it's something that I've always loved.
You can check out Bryden's work on Facebook at Brokkr Forge Shetland.