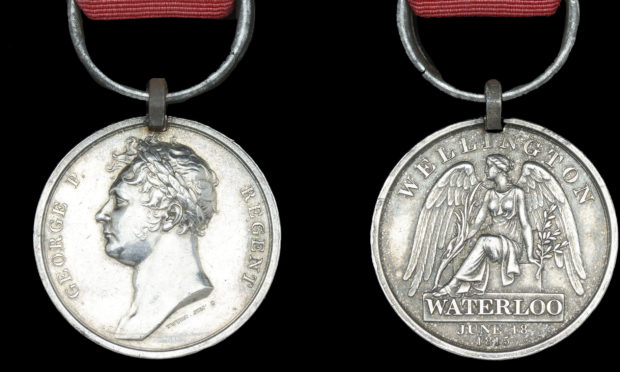 A medal that belonged to a heroic Scottish soldier killed in one of the worst sea disasters in British history – just months after the Battle of Waterloo – has fetched £5,200 at auction.
The Waterloo Medal was presented to Captain James MacGregor, from Ardersier, after the battle in June 1815.
A hero of the Peninsular War in Spain, in which he was injured, he was present when Napoleon's army was defeated at Waterloo, in Belgium.
Just seven months later, 25-year-old MacGregor was on board the troop carrier Sea Horse when it and two other ships were wrecked in the Tramore Storm off the coast of Waterford, Ireland, on January 30 1816, killing 612 people.
Capt MacGregor's Waterloo Medal, fitted with its original steel clip, was among the highlights of Dix Noonan Webb's sale of Medals and Militaria in London. It was sold to a UK-based collector.
It is recorded that MacGregor, "being an excellent swimmer, bade adieu to his friend Lieutenant McPherson, and, stripping off his jacket, jumped into the sea. After buffeting the tremendous surge for some time, he had nearly reached shore, when a part of the wreckage struck him on the head, and he sank for the last time".
Nimrod Dix, deputy chairman of Dix Noonan Webb, said the medal had attracted attention for its rarity.
He added: "Captain MacGregor's medal was bought by an established collector who has been looking for a 'Sea-Horse' Waterloo officer for many years. They are surprisingly rare and I can only recall seeing one other in the past 40 years.
"The fate that befell Captain MacGregor and a great many others of his regiment in the tragic loss of the transport ship Sea-Horse is of much interest to collectors. It was a notable example of military discipline in desperate circumstances."