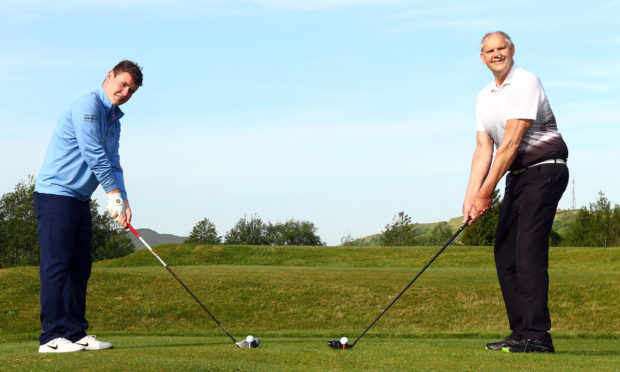 An Oban man who spent 38 days in intensive care at hospital battling coronavirus stepped up to the tee yesterday morning as thousands of golfers returned to fairways across the north and north east.
James Scott was joined at Glencruitten Golf Club in Oban by Scotland's number one golfer, Robert MacIntyre, to play the first balls since golf clubs were shut down two months ago.
Mr Scott, a project manager at Glensanda Quarry, endured a stay in hospital in Oban before being transferred to the critical care unit at the Queen Elizabeth University Hospital in Glasgow.
The 63-year-old was told upon waking from his induced coma that his mother, 84-year-old Jessie, had sadly died after also contracting Covid-19.
Mr Scott has now vowed to raise £15,000 towards a special infection control room at Lorn and Islands Hospital in Oban as his way of saying thanks to those who saved his life.
Mr Scott said: "Everyone is saying to me that I am the miracle man.
"I don't feel like the miracle man, but I do feel like a lucky man.
"Being able to come up here today and hit a ball; I didn't think I would ever be able to do that again."
Ahead of yesterday's tee off, Mr Scott had been practicing his golf swing in his back garden before returning to the club where he has been a member for eight years.
Mr Scott said he broke down in tears when asked to hit the first shot alongside local talent MacIntryre.
"I felt absolutely honoured and so humbled," he said.
"I couldn't believe it. It's so nice and great to have the honour of doing this."
World number 67 MacIntyre, who lives right beside the golf course, said standing with Mr Scott yesterday, tee-off time 8.30am, was something he "had to do".
He said: "It's great. To see a survivor of this disease is bigger than golf."
Mr MacIntyre is hopeful the reopening of golf courses can provide a welcome boost to people across Scotland, but urged golfers to take caution.
"This is still a serious danger to everyone," he said.
"Some people don't see it affecting them but it can get anyone, as we have seen with James and unfortunately Jessie.
"It's just about staying safe, keeping your distance and getting on with life as best you can."
Click here to donate to Mr Scott's fundraising page.