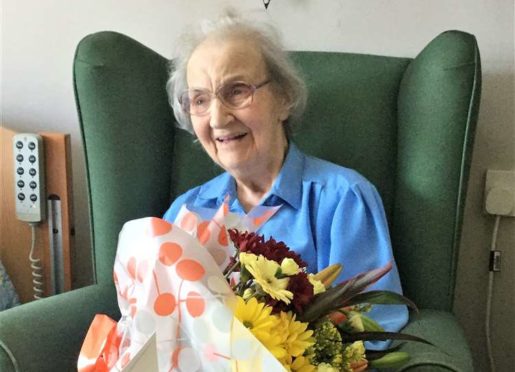 Ice cream was the order of the day at Thurso's Pentland View care home recently as resident Bessie Robertson marked her 100th birthday.
Activities co-ordinator Helen Freeston said that Mrs Robertson was delighted with her many birthday cards, flowers and presents and received a number of phone calls throughout June 1 from her family and friends to wish her well.
Ms Freeston said: "The weather for her birthday could not have been better with plenty of sunshine and Bessie was able to enjoy her favourite ice cream relaxing in the garden here at Pentland View care home."
She went on to tell how thrilled Bessie was to receive a card from the Queen with the words: " I am so pleased to know that you are celebrating your one hundredth birthday on 1st June, 2020. I send my congratulations and best wishes to you on such a special occasion."
The card was signed Elizabeth R.
Ms Freeston added: "All the staff here at Pentland View were delighted to be able to help with making Bessie's 100th birthday a very special day for her.
Born at Sibster, young Bessie worked in the office of Wilfred Weir's shop in Bridge Street, Wick, before World War II.
During the war she was with the Wrens at Rosyth and after being demobbed she married Jack Macdonald and lived in Dunfermline.
After Mr Macdonald died, she returned to Sibster in 1962, staying at Tayfield.
She married George Robertson in 1980 and was an active member of the Inner Wheel.
Mrs Robertson has no children herself but her nephew William Begg looked after her for a lot of years. He says he has been very impressed with the level of care given to his aunt by staff at Pentland View.