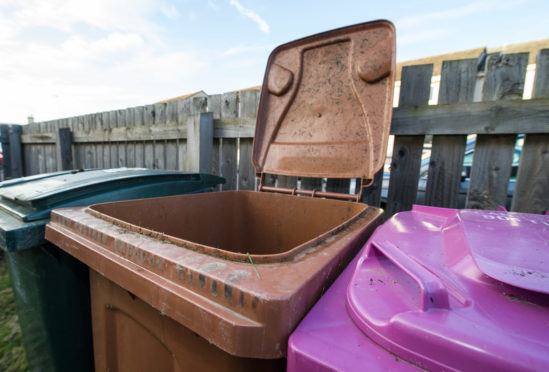 A former leader of an Inverness community council has said he fears the rise in cost for the emptying of brown waste bins is going to lead to a rise in fly-tipping.
David McGrath, former chairman of Smithton and Culloden Community Council, has voiced his concerns after Highland Council announced the fees for collection of brown waste bins would rise by £5 for the period of 2020/21, with cost per bin now standing at £45.
The fee has risen by 50% since 2017 where it stood at £30 per bin.
Mr McGrath has said he fears the system is "self-defeating" and is "persecuting anybody with a decent sized garden or who is a keen gardener".
The bins, which gather garden waste only, are available as an option to households and only grass cuttings, hedge clippings, twigs, bark, leaves, straw, hay, flowers, plants and small branches are allowed to be disposed of.
Mr McGrath said: "Putting the price up for emptying the brown waste bins is not a good idea as far as I am concerned. It is going to cost them more money down the line than what they are going to collect.
"I quite sympathise with people who have got a lot of stuff to get rid of because of the regulations on what you can take into the dump these days are quite draconian.
"For what this is going to generate, it is going to cost the council more down the line where the stuff has been fly-tipped into watercourses."
The TaxPayers' Alliance (TPA) has said taxpayers will be left confused at having to pay extra.
Harry Fone of TPA said: "Taxpayers who have had their council tax bills sent surging will be scratching their heads as to why they're being told to dig up extra cash for bin collections.
"Refuse collection is exactly the sort of basic service overburdened taxpayers expect to be provided efficiently.
"The council should prioritise spending on frontline services, not ask ratepayers to cough up ever more cash for them."
Highland Council has said the increase was decided as part of the three-year budget settlement in February 2019, with the income from the sale of permits "critical in helping to fund the cost of the service, protect jobs and reduce the need for cuts".
It added that the council budget is "very uncertain for this current year due to the impact from the covid-19 emergency".
Mr McGrath's concerns over the increase have not been shared by all.
Inverness South councillor Ken Gowans said suggestions the price increase would lead to more incidents of fly-tipping are "far fetched" and said he believes the service offers "good value at £45".
Approximately 28,000 permits were issued last year with 9,000 tonnes of garden waste collected, which was composted into soil conditioner for agricultural use and land improvement.
The optional fortnightly household collection scheme, which runs during the summer months, has been extended by Highland Council by nine weeks to accommodate for the missed collections during lockdown as uplift was suspended in March.
The 2020/21 garden waste permit season will start on September 1 and will run until August 31, 2021.
New applications are invited before August 2 to take advantage of the extra collections laid on as part of the 2019/20 season.
Up to three brown bins can be uplifted per household.