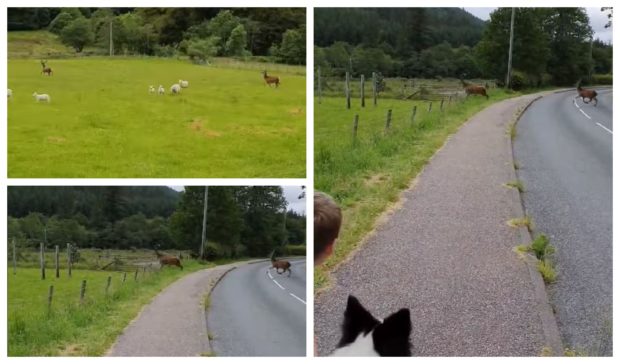 A Highland family captured their encounter with two stags during their walk near Fort William.
Fiona Purdon and her two sons were out with their border collie when the two wild animals appeared in the middle of the road in front of them.
Surprised by the encounter, the 35-year-old carer from Fort William, grabbed her phone and started recording as the stags leaped over a wired fence and into a field full of sheep.
She said: "I was out walking in Glen Nevis on Monday with my two sons and border Collie called Toby.
"We stopped to look at the chickens in the field with the sheep when my eldest noticed the stags about to cross the road opposite us, near the Braveheart carpark.
"We all got a bit of a fright as they were so big.
"Toby, who was off his lead dog, behaved so well and stayed on command.
"It was a lovely experience and a peaceful day with no traffic about."