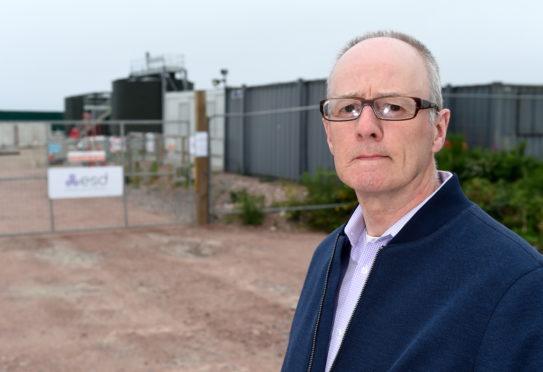 Simmering resentment over a waste treatment plant on the Moray Firth has boiled up again over a breach of planning conditions.
Ardersier residents campaigned vigorously and bitterly four years ago against Scottish Water plans for an £11 million project to expand the treatment works in the village.
It included replacing the outflow to the Moray Firth and building a new main sewer and went ahead despite concerns over bad smells, excess traffic and flooding.
Now Highland Council has served an enforcement notice on Scottish Water for a breach of planning control, relating to the erection of a gantry over the plant which was not shown in the original plans.
The situation has incensed some local residents, including Clive Meredith, who says Scottish Water has treated the Ardersier community with contempt, and accuses Highland Council of dragging its feet over the matter.
Mr Meredith said: "The structure bears no relation to that detailed in the original plans.
"They have erected a large gantry over the top, where there was meant to be a height restriction so that trees planted on the bunding would obscure it.
"The gantry raises the height by four or five feet, and you can see it all around, including from Fort George, a world heritage site less than a mile away.
"Scottish Water must have known they were going to put that gantry up."
A Scottish Water spokesman said a new planning application was underway to enable the changes to be considered.
He said: "Since the original planning consent was granted, more detailed design work has taken place and most of the minor variations arising from this have been discussed and formalised with the council.
"We are sorry that the addition of an access gantry, which is required for safe access and operation of equipment, and a small number of other less significant changes were overlooked as part of this process.
"We will continue to work actively with the local community in Ardersier to minimise the impact of our work, as we have done over recent years.
"Work on site has been on hold since late March as a result of the public health restrictions in response to the Covid-19 pandemic.
"We hope to resume work on site once all appropriate measures are in place to ensure the safety of our team and the wider community.
"We will update the community on arrangements once they are agreed, including for the significant landscaping and tree-planting which will address the visual impact of the site before construction is complete."
Once the planning application is submitted, Highland Council has said members of the public will have the opportunity to comment on it.
A council spokesman said: "The outcome of the planning application will determine any future enforcement action."