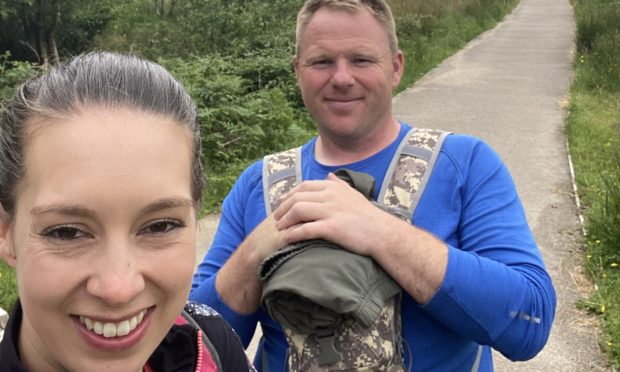 A Highland couple went to great lengths to raise money for charity when their business had to close during the lockdown.
John and Emma MacDonald took their daily walk to the extreme, spending nearly 20 hours covering more than 40 miles in a marathon trek circumnavigating Loch Shiel.
The adventure included negotiating untracked routes, wading through rivers, battling rain, fog, midges and ticks and has so far raised more than £4,000 for the NSPCC, over four times their target.
The couple are currently spending time at home while their hotel and restaurant Mingarry Park at Acharacle is closed due to the pandemic.
John, a champion Olympic Trap Clay Pigeon shot, who has competed for Great Britain at World Cups, World and European Championships and the Commonwealth Games, completed the walk in the kilt he wore at the Delhi games in 2010. He tested it for comfort the previous day by running 5k on his treadmill.
Emma said: "We both love pushing ourselves physically and love the outdoors. Having the hotel closed gave us the perfect opportunity to be able to do this.
"The first ten hours were untracked and complete wilderness. But we wanted a challenge and were prepared for it not being an easy stroll in the park."
The pair stopped at Glenfinnan for a change of clothes, provided by John's father Fergie Macdonald, the legendary accordionist.
"Glenfinnan was definitely a high point" said Emma. "Getting dry clothes felt great and lifted the morale. We also got a huge boost when we arrived home and people came out and clapped us.
"We did not expect the huge support we got, that overwhelmed us almost as much as the walk itself."
Their next adventure could be a 65-mile walk around the Morvern peninsula, or an attempt to run the 96-mile West Highland Way in under 24 hours.