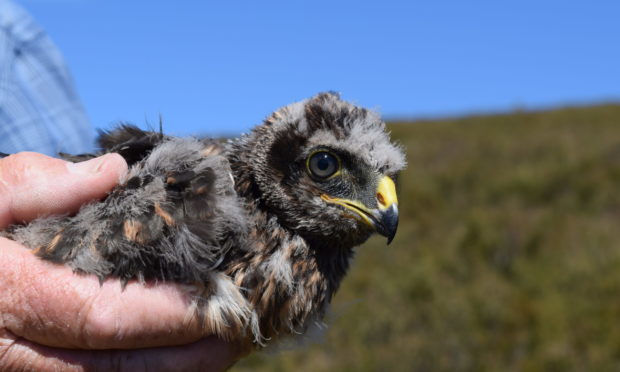 Two more rare birds of prey have disappeared under suspicious circumstances on north grouse moors, a leading conservation charity has reported.
RSPB Scotland found satellite tracking devices attached to a pair of hen harriers both stopped transmitting in April, close to where others had vanished or been killed.
The organisation had been following two males fledged in 2018 – Marlin, from Mar Lodge Estate in Aberdeenshire, and Hoolie from Easter Ross.
Marlin flew south and spent the last two winters in North Yorkshire, while Hoolie had crossed the sea to Ireland and was also being monitored by ornithologists there.
In March Hoolie returned to Scotland, which RSPB Scotland said was likely so he could find a mate and raise chicks.
But one month later his tag suddenly stopped transmitting.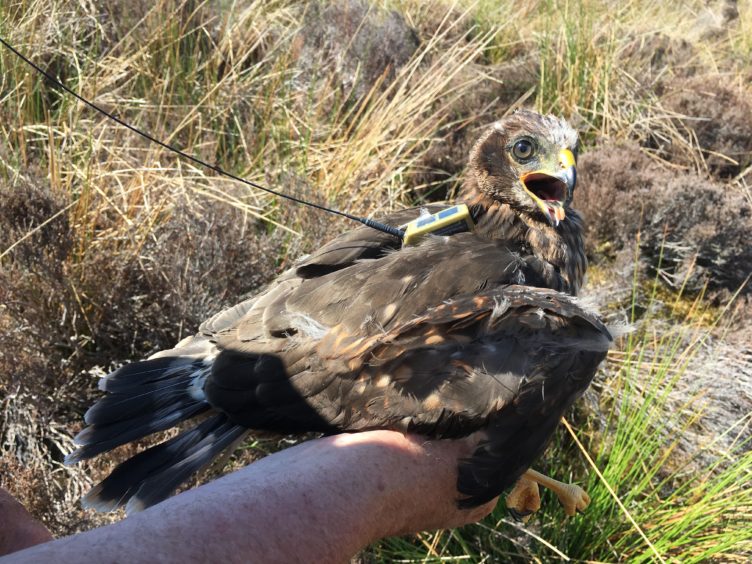 His last known location, on April 5, was an area of moorland managed for grouse shooting near Newtonmore in the Cairngorms.
This was close to where another hen harrier was found dead, having been shot in 2015.
Then three days later, the charity saw Marlin's tag had "suddenly" lost signal after he too returned to Scotland.
The bird had been travelling over land near Newtonmore which is "intensively managed" for grouse shooting.
Last year Marci, another tagged bird from Mar Lodge, disappeared under suspicious circumstances less than one kilometre away from Marlin's last location.
When a tagged bird dies, their beacon continues to transmit their location to allow their body to be recovered.
But the charity says police were sent to both sites, but found nothing.
Ian Thomson, RSPB Scotland's head of investigations, said: "Scotland had only just been put into lockdown in early April and yet protected birds of prey equipped with highly reliable technology have disappeared on land managed for driven grouse moors.
"The fact that these two birds have disappeared very close to where other similar incidents have occurred only heightens suspicions that these birds can be added to the very long list of protected birds of prey killed on grouse moors. "
Last year the Scottish Government published proposals to sanction or prosecute grouse moor owners who fail to protect birds of prey injured or killed on their estate.
A five-year probationary period was suggested, to see if species could recover themselves without the need for legislation.
RSPB Scotland has said the recent disappearances show the need for a scheme to be implemented "as soon as possible."
The Scottish Gamekeepers Association has called for satellite tagging data to be independently monitored and verified.
A spokesman said any suggestion that hen harriers have been killed as a result of criminality on grouse moors "would simply not stand up" in court.
He added: "The SGA has a very clear wildlife crime policy and has expelled eight members in seven years who have been convicted of wildlife crime.
"We will always take a hard stance on this issue.
"However, we will not hang people out to dry on the basis of speculation."