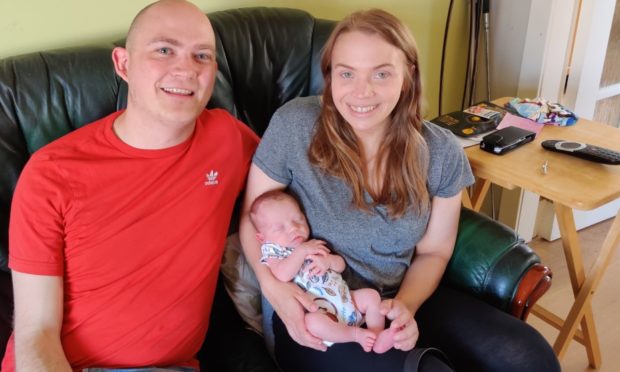 Drew Hendry took to being a grandfather instantly – not that he had a chance to think about it in advance.
The MP for Inverness, Nairn, Badenoch and Strathspey is both delighted and shocked at having a new member of the family who managed to keep his imminent arrival secret, even from his parents.
Little Cameron entered the world unannounced earlier this month.
Mr Hendry's son, Ross, had gone to hospital with his partner Jill Seager fearing she was ill after she began suffering stomach pains.
But an X-ray showed the 31-year-old had actually been in labour for 10 hours – with Cameron born at 8.40am on June 15, weighing 6lb 6oz.
Grandad is now desperate to visit the Edinburgh-based new family for the first time.
"I'll be there as soon as possible to meet my grandson face to face", said Mr Hendry sen. "I'm blessed in a way that I didn't have all the angst about becoming a grandad, I just became one. It really is a marvellous experience.
"I'm told one in every 450 births a year are the result of stealth or cryptic pregnancies, so it's not common but not uncommon. It was still a shock."
Mr Hendry jun, 31,  said he and his girlfriend had attributed her illness to an earlier 12-mile bike ride during which she had not eaten much. However, when her stomach pains worsened they went to hospital.
An ultrasound scan found nothing, but an X-ray revealed the surprise.
Mr Hendry jun said: "Once we got into the maternity ward it really sunk in. But it wasn't the usual 'Oh my God, that's exciting', it was more relief that it wasn't something worse."
He said Miss Seager, usually a keen gym-goer, had gained a little weight but had put it down to not exercising as much during lockdown.
He added: "We're lucky it happened when we are financially stable. And having a baby during lockdown has been great as I can go back to working from home and be there to help out."
He said his extended family rallied round to prepare for their new arrival, adding: "We got out of hospital at 10.30am and we had everything we needed to start with by 12-1pm."