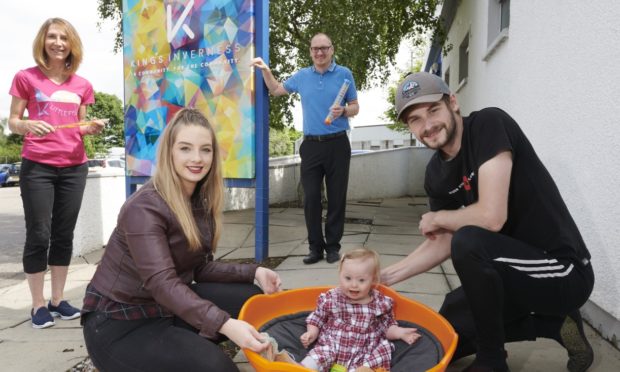 An Inverness playgroup for youngsters with specific special needs has expanded to include younger children after receiving sponsorship from a city firm.
Smithton-based Little Fishes, which is run by King's Inverness church and caters for 300 children and parents a week, with social distancing, has now launched a younger age group, Little Star Fishes.
Parents Shannon and Mickey Wemyss are delighted their 18-month-old daughter Gracey, who has Down's Syndrome, is a regular attender at the new group.
Mrs Wemyss said: "It's great to see more inclusion for children with special needs in Inverness.
"It's so wonderful to be in a safe, friendly group where Gracey doesn't stand out.
"I couldn't contain my excitement when I found out about Little Star Fishes – somewhere we can be ourselves with other mums who have had similar experiences."
The group received sponsorship from Cairngorm Windows.
Managing director David Dowling said: "We were undertaking a windows and doors replacement contract in Smithton for Highland Council and when we required a staff canteen, the church facilities came to the rescue.
"Now we're making it a win-win situation by sponsoring the playgroup's expansion, putting something back in to the local community."
Co-pastors of King's Inverness are Chris Dowling and his wife Sarah.
Mr Dowling, who is also Cairngorm's HR director, said Mrs Wemyss had been the catalyst for the expansion project.
"It's excellent that Cairngorm has benefited from using our premises and has now, in turn, played its part in enabling this very special playgroup to grow and flourish."
The playgroup has received £1,500 of sensory equipment from the Co-op community charity fund and is also supported by the adjoining Factory coffee house, run by King's Inverness, whose staff are on employability placements through Community Jobs Scotland.