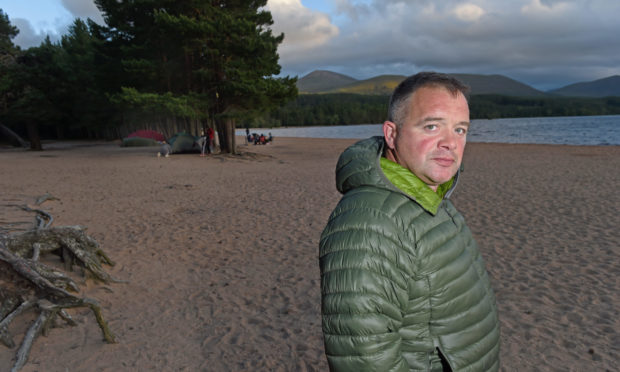 Locals living near to Loch Morlich in the Cairngorms have grown frustrated after an influx of "dirty campers" which resulted in three calls for the fire service in just over 24 hours at the weekend.
Around 30 campfires were extinguished on Friday night by firefighters from Aviemore, with residents reporting in excess of 55 tents set up along the shore.
Firefighters were also forced to return twice on Saturday evening, with a further 25 campfires doused with water.
Locals – who fear for the landscape and their homes should any of the campfires spark a blaze – have described the management of visitors to the area as "spineless", calling on landowner Forestry and Land Scotland to "stop burying its head in the sand and deal with the situation".
Fury as north firm opts to keep campsites shut despite lockdown easing
Duncan Ferguson said: "It is the worst weekend I have ever seen here and I have lived here all my life.
"They have been spineless in their approach from the off.
"There is not one layby or car park or space that isn't occupied by a campervan or a tent.
"It is not wild camping. It's dirty camping.
"People are using the woods around where they are to go to the toilet. It is an environmental health problem.
"The whole valley relies on this corridor for tourism.
"People come here to get a good experience but if people come here and get a bad one, they are not going to come back again.
"There is a lack of facilities but more importantly there is a lack of respect for the people and the local environment."
Mr Ferguson has said excrement in wooded areas was clearly visible on Saturday adding: "Management of the people who come here needs to be undertaken with a stronger approach before the place burns down.
"It is terrifying. If one of these fires gets away, then the whole forest could go up and our houses go up in smoke – just because some irresponsible person thinking its fun to come and camp on a beach.
"The buck should stop with Forestry and Land Scotland.
"They need to stop burying their head in the sand and deal with the situation."
The chaos comes after calls were made last week for the Glenmore Campsite to be reopened to prevent litter and mess at beauty spots.
Pleas to reopen campsite as scores of tourists flock north and leave behind 'litter and human waste'
Mr Ferguson added: "All that has happened this year is they have set a precedent that it is okay to come and camp on the beach.
"Why would you come back and go to a campsite when you can get away with camping on the beach for free?"
A spokesman for Forestry and Land Scotland said: "We are equally disappointed as local residents about the antisocial behaviour being demonstrated and we have repeatedly asked that members of the public respect the countryside, local communities and each other and to take their litter home.
"With lockdown travel restrictions eased people can – under the Scottish Outdoor Access Code – visit the countryside if they act responsibly.
"We have no powers to police their behaviour and would advise that anti-social behaviour be reported to Police Scotland."