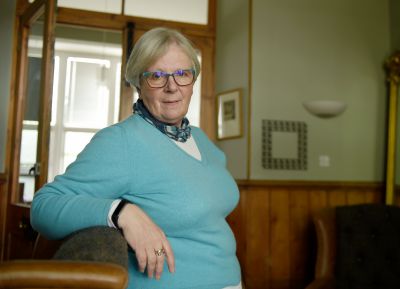 A Highland cancer survivor is urging anyone with worrying symptoms to visit their doctor and not be put off by the thought of entering a GP surgery during the current pandemic.
Jane Cumming had vague, grumbling symptoms nine years ago when she was in her fifties and at the time readily dismissed them.
But when she mentioned them on a routine visit to her doctor, he took her symptoms seriously and referred her for tests.
Ovarian cancer was eventually diagnosed and, after further exhaustive tests and a global search, the cancer was defined as adenosarcoma, a condition that then affected only about 50 people in the world.
Ms Cumming, from Beauly, subsequently had a full hysterectomy followed by a gruelling course of chemotherapy.
She said: "I have no doubt that if I had not mentioned it to the doctor when I did, I would be dead.
"Adenosarcoma has a very poor prognosis, with only around 25% of patients surviving five years.
"My oncologist told me afterwards that no-one else had managed to finish the chemotherapy treatment, it was that toxic.
"But I told him I was a tough old boot, and strong as an ox, and here I am today."
Ms Cumming, who is a director of JMC Communications and a board member the of SCDI, said she has no doubt that if she'd had the symptoms today, in the midst of coronavirus, she would not have visited the doctor and "would be dead".
"At the best of times, people often don't want to bother the doctor, but these days people have been scared into not going to their GP surgery," she said.
"They have been advised not to go out, and it may be quite hard to think about going into a medical environment, but their GP surgery is probably safer than anywhere else these days with all the measures in place.
"I really urge people to listen to their bodies and go to their doctor when something doesn't feel right.
"It could save your life, as it did mine."
The Scottish Government launched a campaign in April to encourage people to seek medical help for urgent health issues which are not related to Covid-19, after figures showed a drop in in GP visits, suspected cancer referrals and children's immunisations.
Health secretary Jeane Freeman said: "It is vital for people to know that GP surgeries and hospitals are still there for them if needed.
"While we appreciate the public doing all they can to reduce the strain on our NHS at this challenging time, if people have serious health concerns or symptoms, it's just as important as ever to seek immediate medical assistance.
"This pandemic does not mean we've stopped the fight against cancer, heart attacks or other serious health conditions."
Dr Boyd Peters, medical director for NHS Highland, added: "We appreciate why some people may be concerned about attending but would like to reassure them that measures have been put in place to ensure patients, and staff, are as safe as possible.
"It is extremely important people are aware that GP surgeries and hospitals are still there for them if needed.
"The NHS remains open. We are here for patients and we want to hear from anyone if they have an urgent medical problem."
"You can contact your GP practice by telephone or if you have an urgent medical problem and you're not sure what to do, you should dial 111.
"Always call 999 if someone is seriously ill or injured."
Adenosarcoma
An adenosarcoma is a tumour that is a combination of two types of growth.
The first is an adenoma, which is a tumour that starts in the gland-like cells of what is medically described as epithelial tissue, a type of cells that line the internal and external surfaces of the body.
The second is a sarcoma, a tumour that starts in bone, cartilage, fat, muscle, blood vessels, or other connective or supportive tissue.
The most common site of adenosarcoma formation is the uterus, but it can also occur in the cervix and ovaries.
Ovarian adenosarcoma is a very rare tumor affecting the ovaries. It mainly affects women of reproductive age. Symptoms of ovarian adenosarcoma include abdominal or pelvic pain and abdominal swelling.
Ovarian adenosarcomas have a worse prognosis than uterine adenosarcomas, thought to be because they can spread more easily.
Standard care of treatment is total hysterectomy and chemotherapy can be considered, as in Ms Cumming's case. Little is known about the cancer because of its rare occurrence in the world.
The five-year survival is 64%.
'There's strong evidence that a reduction in people coming forward to seek help has led to lower numbers of urgent referrals for suspected cancer'
In April, it emerged that almost three-quarters of people with possible cancer symptoms were failing to seek medical help.
Scotland's interim chief medical officer Dr Gregor Smith said the number of urgent GP referrals for suspected cancer cases had dropped by 72% in Scotland since the outbreak started.
He said he was "worried" that people with lumps or unusual bleeding were not being tested or diagnosed.
At the time, Dr Smith used one of the Scottish Government's daily coronavirus press briefings to issue a plea for anyone with new or persistent symptoms to contact their GP immediately.
He said A&E attendance was also 54% lower than the average equivalent weeks in the past three years.
"Please don't delay unnecessarily. Your NHS remains here for you, please seek when you need it.
"There's strong evidence that a reduction in people coming forward to seek help has led to lower numbers of urgent referrals for suspected cancer.
"This is seen not just in Scotland but appears to be a pattern in other parts of the UK.
"GPs are telling me that they're seeing much fewer people coming forward with these types of symptoms and signs, and the volume of referrals that are being received backs this up.
"In fact, there's been a 72% reduction in urgent suspected cancer referrals compared to the weekly average.
"Now, I don't believe for a second that these diseases or these concerns have simply disappeared, so this must mean that there are people out there who are not seeking help when they might need it."