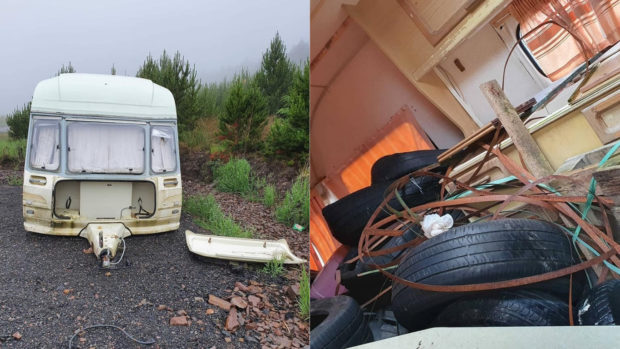 A Highland conservationist has spoken of his outrage after fly tippers dumped a caravan full of waste in the grounds of a Caithness monument.
Members of the Caithness Broch Project (CBP) first discovered the abandoned caravan in the newly formed Ousdale Broch car park three weeks ago, as ground works recommenced at the historic site.
The vehicle was full of tyres, pallets and wires.
Director Kenneth McElroy said fly tipping is "downright selfish and obnoxious behaviour" which tarnishes the efforts of others.
He said: "It happens all across the county and the country so I wasn't particularly shocked to find tyres, pallets, wires and junk in there.
"I'm just really, really disappointed. You spend years and years planning and working out funding issues, working with land owners and doing just about everything alongside the main Broch project and then this happens.
"It's sickening behaviour. People are sick to tears of it and there are just some bad eggs out there that spoil the fun for everyone."
The matter has been reported to both the Highland Council and the Fly Tippers Hotline.
He added: "It's beggars belief anyone does it and would do it anywhere but why do it so close to a monument like this or on the land of a community organisation or charity who have been working to make the place better for visitors and for people who live here.
"We want to send the message out that you can't do this and you shouldn't be doing this. Everyone else is living day-by-day trying to make the place better and live a good and responsible life so this is just the height of bad manners.
"People hate people who do this and I really hope we found out who did this and they are totally ashamed by what they have done."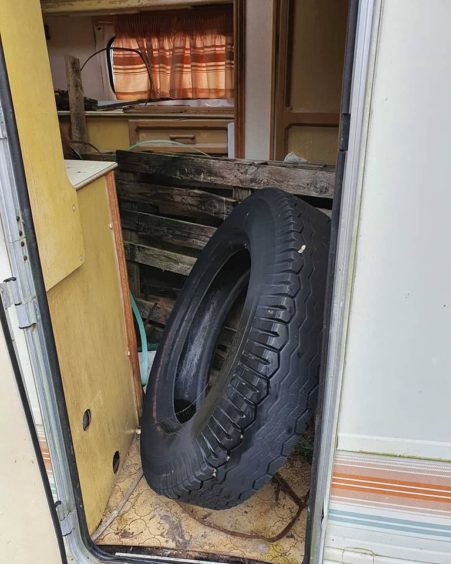 Due to the caravan being dumped on private land, the vehicle is to be removed by a local recycling firm and taken to a holding site before a 15-day notice is placed on it by the Highland Council prior to destruction.
A council spokeswoman said: "Reports of fly-tipping are investigated by officers from the Council's Environmental Health Service, in conjunction with The Scottish Environmental Protection Agency (SEPA) and Police Scotland. Where the responsible parties are identified, appropriate enforcement action will be taken. This could involve a fixed monetary penalty of £200 or, in more serious cases, a fine of up to £40,000. Anyone coming across incidents of fly tipping can report it 24 hours a day, 7 days a week using our website."