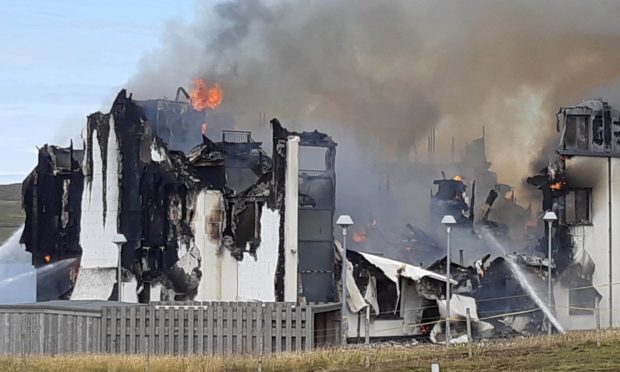 Islanders have donated thousands of pounds as well as clothing and other goods to help staff and residents at a Shetland hotel which was destroyed by fire.
Firefighters from across the Shetland mainland fought the blaze as it ripped through the 100-bedroom Moorfield Hotel in Braes.
Nearly 70 people inside the building were evacuated safely after the alarm was raised by a night porter at about 12.30am.
By 3am, the roof of the seven-year-old building started to cave in and a few hours later the hotel was reduced to a smouldering shell.
Guests had to flee in the clothes they were wearing and some left without personal effects, including glasses, car keys and passports.
As an investigation into the cause was launched, efforts were being made to find temporary accommodation for those affected.
An online fundraiser which aimed to raise £500 had by last night brought in £2,845.
Iain MacLeod, Scottish Fire and Rescue local senior officer for Western Isles, Orkney and Shetland, said nine fire crews, including three from Brae and six from other stations across Shetland, made their way to the scene to find a "rapidly developing fire".
They were supported by the Sullom Voe oil terminal's industrial fire teams.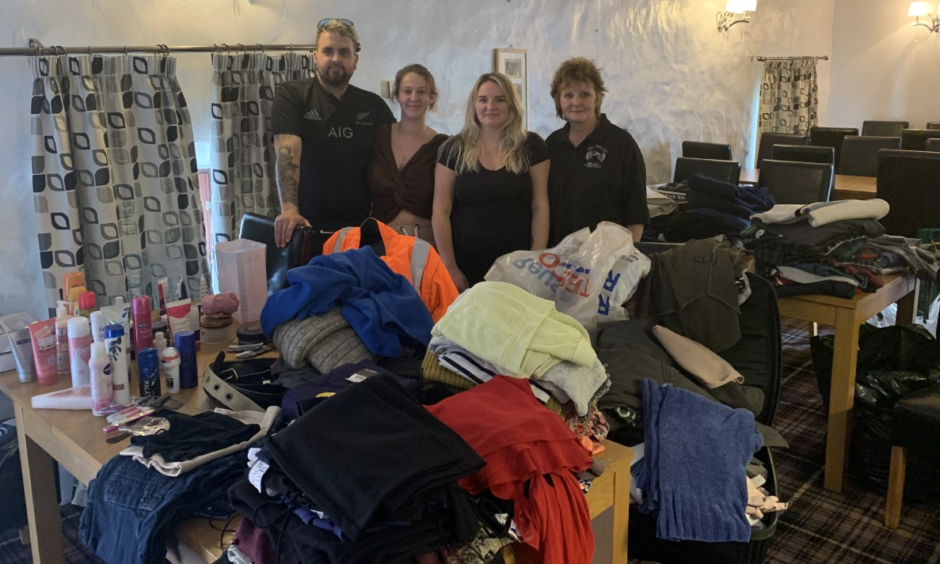 Five units remained on scene last night, while police have appealed for information about the fire.
Aisha Rabhi, who lives near the hotel, said: "I woke up to shouting and I thought it was just people outside. Then I looked outside and my heart sank.
"I panicked and put clothes on and went outside and I could see all the men there, some in shorts and pyjamas. I felt so bad for them."
Moorfield Hotel was built mainly to provide accommodation for staff at the nearby Shetland Gas Plant.
It was due to close at the end of the month after the oil and gas company Total declined to renew its contract with the company.
Stuart McCaffer, of owners BDL (Shetland) Ltd, said: "We are shocked this has happened to the Moorfield.
"Thankfully all of our guests and staff escaped safely from the building.
"There will be a full investigation to identify the cause but it would appear the fire safety systems have worked to identify early the outbreak of fire and evacuate the hotel.
"We are grateful to the fire fighters for their response."
James Milne, who was a chef at the hotel until recently, helped set up an appeal to assist those who fled the hotel.
His post read: "There are around six live-in staff along with 80 workmen who have now lost all their belongings.
"I know my friends who lived there has lost everything they own."
Mr Milne said he was amazed at the response to the appeal.
"People have brought in clothes, toiletries, chargers and other items." he said.
"It is amazing was has been donated to get those affected started again. They really railed round today.
"Shetland has always had a good community spirit, but to see it in action is incredible.
"I can't believe we've raised so much so quickly. It will help them so much."
Mr Milne, who worked at the hotel for more than two years, added: "It was a brilliant place to work and I really enjoyed it there.
"We were holding out hope that someone would buy it and we would have somewhere else to go. But now it's just gone."
Shetland MSP Beatrice Wishart said the fire was "devastating news".
"Thankfully all occupants are safe and accounted for," she said.
"In time, it will be important to find out what happened but for the moment my thoughts are with the Moorfield staff, guests and the hotel's owners."
Highlands and Islands MSP Jamie Halcro Johnston added: "As ever, we can be proud of the islands community, who have already pulled together.
"My thanks particularly go to all the people who helped find alternative accommodation for those impacted by the blaze."