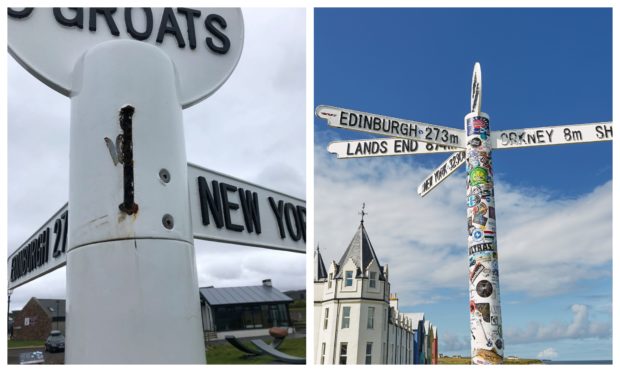 The irresponsible behaviour of some visitors has been slammed after a world-famous north landmark was damaged.
The Orkney guide post was found snapped-off John O'Groats iconic sign as images appeared online of people hanging from it.
Visitor numbers in recent weeks have delighted the John O'Groats Development Trust (JOGDT), helping to reboot the vital local economy and tourism industry.
Sadly the influx has brought with it some "very challenging issues" as a number of hand gel dispensers have also been damaged.
https://www.facebook.com/johnogroatsdt/posts/735471040583932
Images on social media have shown visitors hanging from the sign with the damage thought to have been caused by such activity.
A post on social media from JOGDT stated: "It really is such a shame when a few clowns ruin things for hundreds of others".
The trust said the signpost had been restored and painted earlier this year at "considerable cost" with repairs required "thanks to some thoughtless folk".
Treasurer Andrew Mowat, who also operates the Seaview Hotel, said the damage is understood to have taken place sometime between 5am and 7.30am on Tuesday morning.
Mr Mowat said: "Whatever happened to bring it down, had somebody been below it would have been a catastrophe.
"It is a solid lump of steel and for an older person or a child it would have been probably caused serious injury or even death."
In another post on their Facebook page, JOGDT shared images of people swinging from the sign, though it has established those highlighted were not the culprits who brought the fingerpost tumbling down.
Mr Mowat said some have already been in contact to apologise – and even donated funds to assist with the latest repairs.
The sign has been restored to its full glory thanks to the support of local firm Caithness Creels, which offered its welding services free of charge, saving the trust approximately £500.
He added: "It will need a wee drop of paint and needs to be touched-up a bit but at least it is all back intact again.
"The people have done wrong, they shouldn't have done it but they didn't mean any harm. They never set out to break it and they were just being a bit daft.
"It would have cost a fortune to replace the fingerpost if someone had gone away with it.
"In all the years I have lived here and been involved in business and the trust here, I can't say I have ever seen anyone swing from it until it was brought to our attention that there are several social media posts showing people doing just that.
"We want to attract people here, but we want the message to be 'Please come here but please be respectful'."
Local MP Jamie Stone said: "Vandalism of this type is the last thing we want in an increasingly competitive tourism market.
"The hallmark of quality is what is going to win tourists in the future and if a reputation for vandalism and yobbish behaviour gets out that is completely counterproductive."