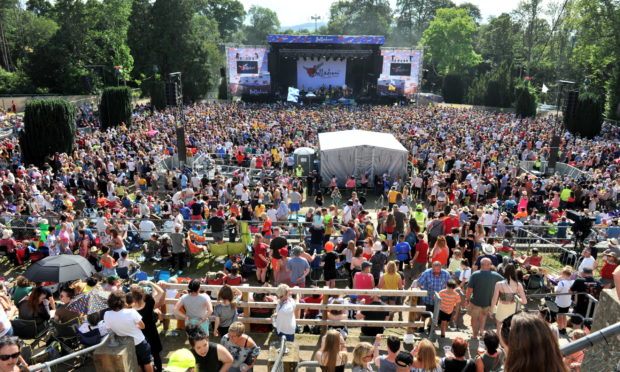 Organisers of the family-friendly Belladrum Tartan Heart Festival yesterday put the finishing touches to their special online event which gets under way today.
The virtual festival kicks off at 1pm and has been created by organisers who were left "heartbroken" at having to cancel the physical version of the popular celebration.
It runs right through to 11pm, with an array of events, new live musical performances and nostalgic moments looking back at some of the event's finest moments from the past 17 years planned to "keep the Bella spirit alive in 2020".
Event organiser Dougie Brown is looking forward to seeing how revellers celebrate their own form of Bella in their homes and gardens.
He said: "I think we have really managed to capture what makes Bella special.
"There is a little bit of everything in the programme, from yoga to kids craft workshops, to quizzes and puppet shows.
"We are so excited to see how the Bella family and extended audience create their own little bit of festival magic at home."
Content will be streamed through the Belladrum social media pages, with BBC Alba to air two Belladrum specials featuring new content and archive footage from 6-7pm, followed by a festival closer from 9-11pm.
An exclusive performance from KT Tunstall is to be aired, all the way from her own virtual Bella at her home in Los Angeles, and she will join famed trad singer Julie Fowlis for a duet performance of Heal Over.
GALLERY: Belladrum's early evolution as the Highland festival is shelved for the first time in nearly two decades
Renowned fiddle player Duncan Chisholm will also be playing – alongside Donald Shaw – having played a tune every day for almost 130 days during lockdown.
And Danny MacAskill, the street trials cyclist from Skye, will be performing some daredevil stunts on the Belladrum Estate.
Margaret Cameron, channel editor at MG Alba, said: "When we knew we weren't going to be able to broadcast live from music festivals and gigs, we moved fast to think of creative ways to continue to bring festival fun and music to our audience.
"We wanted to create music programmes that people can watch from the comfort of their own homes while still maintaining that sense of community and shared experience you get from attending live events."