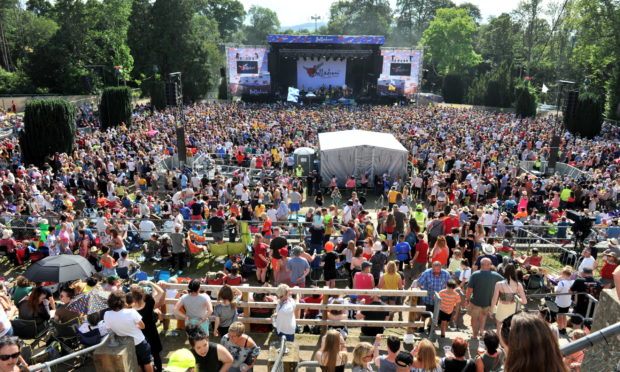 Revellers across the globe created their own Bella magic this weekend to ensure the festival's spirit was kept alive in 2020 despite the coronavirus pandemic.
Thousands across the globe tuned in to live coverage on Saturday as musical performances, nostalgic throwbacks and fun and games were broadcast to deliver Belladrum's loyal fan base their fix of the famed event.
Performances included KT Tunstall all the way from her own home Bella in Los Angeles alongside Julie Fowlis, with Robert Robertson of Tidelines and Torridon also wowing the audience.
Organisers yesterday spoke of their festival blues following the conclusion of the event however praised their loyal band of fans for making the Belladrum Tartan Home Festival a roaring success.
Organiser Dougie Brown said: "It is actually pretty overwhelming the response and feedback we have had.
"It really was incredible.
"When the main festival went and we decided to create a virtual one, we didn't really know how it would be taken on by our audience but we were inundated with messages from the moment we started broadcasting.
"People as far afield as Italy, Germany, California, Texas, Australia and Dubai were sharing their own setups and Belladrum really did go global for the first time.
"What we are really proud of is that we truly did create a true taste of Belladrum.
"It wasn't just bands; you were able to meet the team and there were lots of things for kids to do throughout the day.
"People went way further than we imagined.
"A family hired a portaloo to create the true festival experience, people went crazy with full bar setups in their gardens, bunting and full stage setups. It really was incredible to see.
"Belladrum has that magical thing that not many festivals have in that the festival is the audiences. They are so proud of it and really want to get involved and that is something for those of us who work at it just find amazing.
"It was so much fun and a great experience putting on a virtual festival but hopefully we never have to do it again. It was a one-off and hopefully next year we are back in the field and everything is back to normal."
A prize was held for the best set up with the Lego Bella creation by the Ross family scooping top prize after ingeniously utilising a smartphone for the main stage alongside Lego revellers.
The virtual instalment allowed Belladrum to celebrate its 17th year.