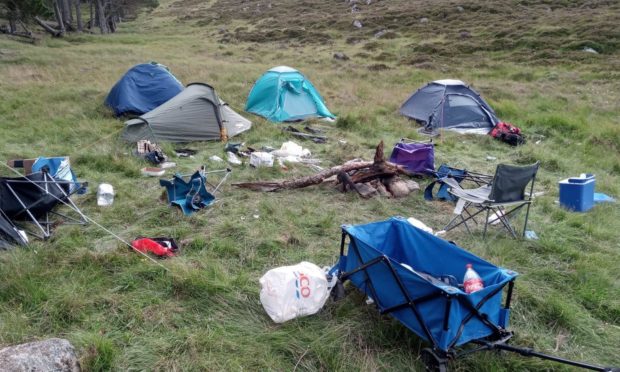 Councillors are demanding immediate extra cash to pay for countryside wardens to protect the Highlands from a "scourge of idiots" leaving a mess behind while wild camping.
The call comes as the relaxing of lockdown restrictions has sparked an increase in the number of UK residents going on holiday across the north.
Councillors fear the lack of facilities, such as toilets, bins and adequate parking areas, could result in a health risk.
A motion calling for extra funding was made to the full council during a virtual meeting held yesterday, and was unanimously voted through.
Councillor Ben Thompson, who raised the motion, said all areas across the region were being affected by uncontrolled camping, including his Caol and Mallaig ward.
He said: "Many areas of the Highlands are being adversely affected by a huge increase in uncontrolled camping.
"This may or may not improve with the opening of camp sites.
"Future demand from 'staycationers' may well outstrip any possible supply of campsite spaces.
"The public health risks from this increase in camping during a pandemic must be addressed with urgency."
He added: "Steps that may be taken to reduce public health risks include increasing waste collections, better traffic management, restrictions on alcohol consumption, and financial support for beach or countryside wardens, temporary toilet and hand-washing facilities."
The councillor said more cash could also be provided to the police and Scottish Natural Heritage to increase numbers of officers and rangers respectively.
Mr Thompson said: "We need additional infrastructure, education and enforcement. And we need it now.
"We can have signs saying 'no parking', which are ignored and useless without enforcement."
While councillors noted their appreciation for financial aid so far given by the Scottish Government, they agreed much more was needed now to make an immediate impact on the surge of visitors.
Mr Thompson said the council should be committed to use its resources where practicable and affordable to support steps needed, but called on the Scottish Government and its agencies to work with them.
He added: "Pressures being experienced across our beauty spots are heightened this year as more people coming out of lockdown holiday in the Highlands and as festivals are suspended.
"This, along with the need for enhanced hygiene to reduce Covid risks, is creating a Covid emergency situation with public health, environmental and public conduct issues to address.
"Resources need to be urgently deployed to address this live situation.
"We are actively seeking funds from the Scottish Government to assist in this situation which extends to other areas beyond the Highlands."
Councillor Andrew Baxter, representing Fort William and Ardnamurchan, described the "invasion" of wild campers as a "scourge of idiots" who were "trashing" beauty spots such as Glen Etive.
He said: "It is residents, landowners and the National Trust for Scotland who are left to clear up the mess."
Councillor Maxine Smith suggested councillors use some of their ward discretionary budgets to assist, including spending money on temporary toilets.
Mr Thompson said action required to be taken immediately to "protect Highland communities".
He said the region needed the tourist industry, adding: "We are known for being open, clean, friendly and welcoming. If we make the correct response and resources then we can come out of this pandemic promoting the Highlands."
A Scottish Government spokeswoman stressed that Highland Council had already received a "fair share" of funding made available to help local authorities through lockdown.
She said: "We are aware of a number of incidents of littering, anti-social behaviour and damage to our natural environment since lockdown restrictions began to ease and are clear that this behaviour is completely unacceptable, and disrespectful to local communities.
"We have taken exceptional measures in every area of government as we deal with the challenges of Covid-19 – and that is particularly clear in our support for local services.
"To date, the Scottish Government has committed almost £330 million of additional funding to local government, of which Highland Council will receive a fair share."