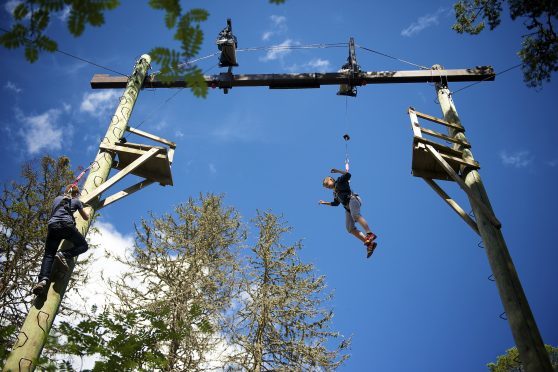 A popular Highland adventure park reopened yesterday after a short temporary closure due to the Scottish Government's ban on "fairground rides".
Visitors will once again be able to enjoy an array of activities at the Landmark Forest Adventure Park in Carrbridge.
Some of the big rides – such as the popular watercoaster and timber train attractions – will, however, remain off limits.
The Scottish Government decision to ban "fairground-style rides" was announced earlier this week and came just a week after the park's operators were told they could re-open following the Covid-19 lockdown.
It has affected a number of businesses, such as Codona's Amusement Park in Aberdeen.
Bosses at Landmark said on Monday the decision had given them 'no option' but to shut earlier this week for a further temporary period.
The big rides had a large ability to 'process' visitors, but with those out of action the park lost some of its capacity.
It took two days to re-assess the number of visitors able to walk through the gates.
The period enabled staff to accelerate the reopening of five high-level and low-level rope challenge attractions which need specialised mitigation measures in place to enable them to operate.
Landmark has also now been given permission to open Ant City too.
A spokesman said: "The park is now open, but the Wild Water Coaster and Runaway Timber Train are now closed as the Scottish Government have now banned all 'fairground rides'."
It was on Monday this week that environment health staff from Highland Council told management they had to shut down those rides following Scottish Government regulations on fairgrounds.
The spokesman said: "That was particularly disappointing given the fact we have been operating under strict Covid-19 safety measures for these attractions since July 15.
"We are hugely grateful to our staff who worked above and beyond on preparing all of the Covid-19 mitigation we had in place on these attractions.
"We sincerely believe we have managed the risk to acceptable levels of safety for staff and visitors."
Yesterday, Landmark re-opened the RopeworX high challenge course, the Tarzan Trail challenge course, the Wee Monkey challenge trail, the Pinnacle Climbing Wall, Skydive parachute jump simulator and the Ant City play area.
A Scottish Government spokesman said: "We understand the difficulties businesses face, but it is imperative we continue to suppress the spread of the virus, in order to maintain the progress we have made to date.
"We are therefore asking all local authorities to recommend that operators ensure fairground-type rides are closed, regardless of their location."
Alan Yates, Highland Council's environmental health manager, said: "Our service received updated Scottish Government advice on funfairs.
"The advice indicated that as a result of work undertaken on the operation of funfairs, the Scottish Government had a better understanding of the levels of transmission risk associated with the use of fairground rides, including those in non-funfair locations.
"The Scottish Government is now recommending that fairground rides in locations outwith funfairs should also now remain closed.
"While our service understands the impact of this advice and the frustration arising as a result of the changes in guidance, it is important from a public health perspective it is acted upon.
"Our service is very grateful for the cooperation of Landmark in this respect and will continue to liaise closely with them in the coming weeks in order that they can re-open the rides when Scottish Government guidance permits."