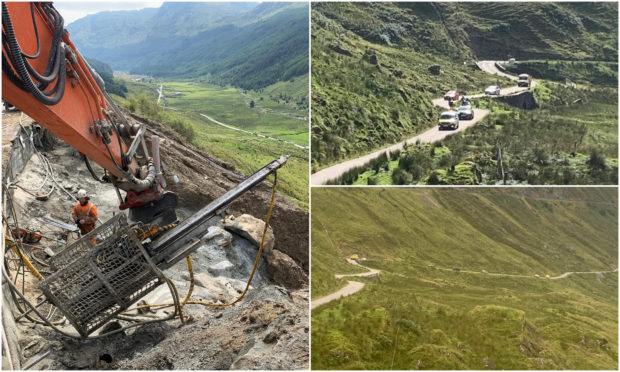 The Old Military Road in Argyll will close again this evening as further weather warnings have raised concern.
Work is continuing in the area to reinstate traffic to the A83 Tarbet to Campbeltown route after a landslip consisting of approximately six tonnes of debris closed the vital route.
Boulders the size of cars were exposed with workers continuing to assess the damage and conduct repairs to allow normal service to resume.
The Rest and Be Thankful has been plagued by landslips over the years with last week's damage forcing a near 60-mile diversion for motorists.
The Old Military Road reopened at 7am this morning, but motorists will again have to undertake the lengthy diversion as of 9pm tonight.
A reassessment will take place at first light tomorrow.
The decision has been made after the Met Office issued yellow weather warnings across the country with heavy rain expected and some areas being hit by thunderstorms.
Concern has been raised that heavy downpour could force the dislodging of loose debris which could impact both roads.
Eddie Ross, Bear Scotland's north west representative, said: "With weather warnings for thunderstorms in place overnight across much of the country we have taken the difficult decision to close the local diversion route again from 9pm due to the restrictions in being able to safely monitor the hillside.
"The warnings indicate that localised heavy downpours could sporadically occur overnight which could have an impact on the loose debris present in the channels above the road.
"We, therefore, have decided to close the route for safety overnight and implement the standard diversion route via the A83, A82, A85 and A819.
"We'll assess the route at first light tomorrow and hope to open the Old Military Road in the early morning following all safety checks.
"Teams have worked tirelessly since Tuesday's landslip to clear the debris and complete full assessments and safety checks of the area.
"The event caused significant damage to the embankments above and below the carriageway, with sections of the road undermined in places due to the volume of water and debris which came down in the landslip."
He continued: "Designs are being finalised and, in parallel, work has begun on the preparatory stages.
"Safety remains our top priority and we'll do all we can to reopen the main A83 as quickly as we can.
"As ever we thank the local community and road users for their patience while we address the situation at the Rest.
"Argyll remains very much open for business and we ask road users to plan their journey in advance by checking Traffic Scotland for the real-time travel information."
The Old Military Road was allowed to reopen on Saturday with a convoy system in place on the single-track road during operational hours.
Motorists can keep up to date with updates on the road reopening by accessing the Traffic Scotland website at www.trafficscotland.org or by checking their twitter page @trafficscotland