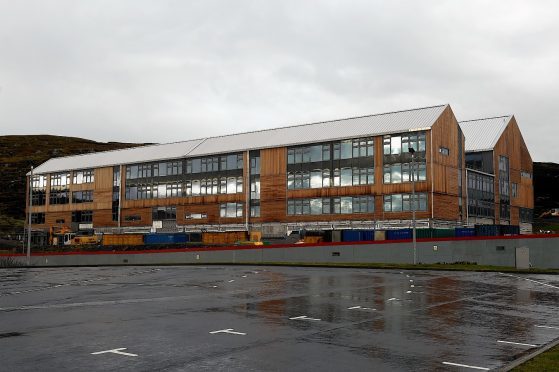 With schools in Shetland and the Borders the first in Scotland to be opening again yesterday, just under 500 secondary four, five and six pupils at Lerwick's Anderson High School attended classes for the first time in almost five months.
Shetland Islands Council, like other local authorities, has chosen a soft approach to school opening with only five of the small local primary schools welcoming back all pupils yesterday.
By Monday all local pupils should be back at school full-time, and for many it will be the first time that they have been part of a larger group.
Anderson High head teacher Valerie Nicolson said she is confident that sufficient Covid-19 safeguard measures are in place to safely restart pupils' education.
"We are following the Scottish Government and local authorities guidance," she said.
"We have one way systems around our galleries and around the ground floor, there are hand sanitising units at every corner, you hand sanitise as you come in to the building, we are staggering interval times and lunchtimes and we've got a reduced selection on offer at lunchtimes so that pupils can move quickly through the queues.
"In partnership with SRT [Shetland Recreational Trust] we are using some of their spaces at lunchtimes so that we have overspill space for spreading out the pupils a bit if it is a wet day.
"I think it is fair to say that there is an air of optimism this morning. It has been five months since the pupils have been in, and particular for classes four to six this is their qualification year. Our staff has been keen to see these senior pupils back at school as quickly as possible.
"Optimism is the overriding emotion but without a doubt everybody will have their own mixed feelings about the start."
Her optimism was shared by pupils as they returned to school for the first time since the middle of March.
Sixth year student Shoi Regan it feel "pretty good" to go back: "It's been a while and it will be good seeing everybody again.
"I play football and it has been back training for a couple of weeks. We don't have to social distance there, but we will probably now. I really doesn't make that difference to me."
Joshua Painter, a secondary five pupil, said he was "pretty excited" about going back to school.
"It will be interesting to see how they work it, but it also will be very stressful this year with exams and not knowing what exactly is going to happen," he said.
Joshua said the last few months have been "pretty boring" and there was a lot of catching up to do.