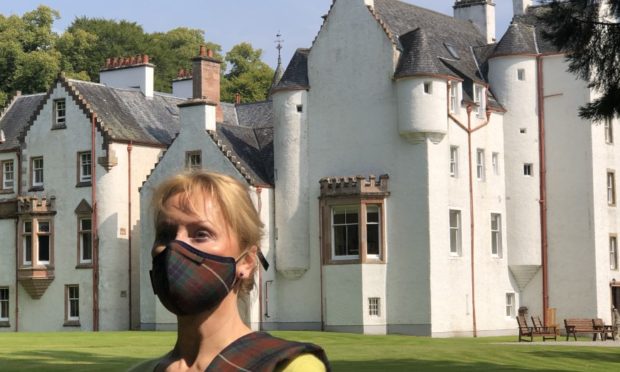 A visit to a Highland castle inspired a face mask manufacturer to make a tartan version which celebrates its clan heritage.
Barbara Thompson, whose company Angel Med produces one of the few re-usable face masks with scientific credentials in the fight against Covid-19, has replicated the distinctive Clan Fraser of Lovat colours of blue, green, tan and red.
It follows her holiday break at Erchless Castle, near Beauly, which was held by the Frasers but passed by marriage to the Clan Chisholm in the 15th century.
TV personality and Loose Women star Gloria Hunniford recently credited her Angel Med mask with giving her the confidence to come out of 13 weeks of social isolation.
Having celebrated her 80th birthday in lockdown, she later flew to France on holiday, stating that she was encouraged by the confidence inspired by the mask.
Ms Thompson said: "We have visited Erchless for some years now, and been fascinated by its history. Scotland has faced many threats over the years and none more serious than coronavirus. Adding a distinctive tartan to our masks adds a touch of pride and unity in the battle against this virus.
"Our research has helped us to develop a face covering that provides an effective barrier against a vapour-born virus."
Backed by Harley Street consultant Mr Ian Bayley, the masks now being sold across the UK.