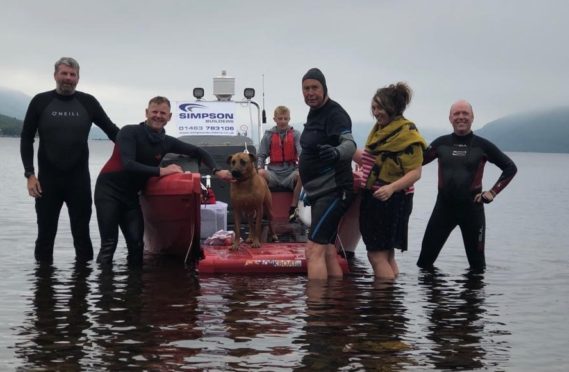 Employees from a Highland firm have taken the plunge to swim across Loch Ness to provide financial support for charities hit hard by Covid-19.
Staff from Simpson Builders in Beauly swam the breadth of the loch, around 1.6 miles, on Saturday in the hopes of raising money for causes commonly supported through the Highland Cross duathlon, following its cancellation in June.
The five-strong team set off from Dores Bay around 10.30am before reaching the opposite shore around an hour and a half later.
Their efforts have received an outpouring of support with more than £3100 raised through donations; smashing their initial £1500 target.
Quantity surveyor Mark McCann said: "It went very, very well indeed. The weather was perfect, it was overcast but calm and all five of us made it over without any mishaps.
"Its was very satisfying feeling on Saturday afternoon when we finished the swim and we realised we had made a wee difference.
"The money is going to such a good cause; it's made it all worthwhile."
The team which regularly takes part in the Highland Cross, a 50 mile duathlon on foot and bike from the west coast on Skye to Beauly, decided to embark on their own unique feat in light of the cancellation of the 38th annual event.
Company director Gordan Simpson was joined by Mr McCann, 52, construction manager Andrew Philips, 45, his father-in-law Alistair MacGregor, 70, and Mr MacGregor's daughter Aileen-Anne, 40 to complete the challenge.