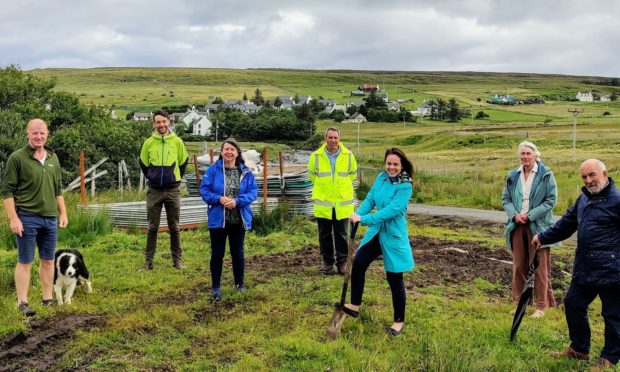 A long-awaited project is underway to build affordable houses in north east Skye to help stem depopulation.
The development at Stenscholl, Staffin, comes six years after a report highlighted the need for new homes to ensure the community's sustainability, and 21 years since the last affordable houses were built in the area.
The £1.6 million project includes six three-bedroom homes, a health centre and two business premises.
Already there have been more than 10 expressions of interest in the new homes and six notes of interest in the business units.
Staffin Community Trust (SCT) developed the project after concerns about the lack of available accommodation, the falling roll at local school Bun Sgoil Stafainn and the declining population.
An economic report showed Staffin's population had dropped by 6.6% between 2009 and 2013, from 608 people to 568.
Donald MacDonald, a founding member of SCT, said taking six years to build six houses has been frustrating.
"This is a significant project for a community which was overlooked by public agencies for far too long.
"The demand far outstrips this project and there is a real need for the Scottish Government and local authorities to put systems in place that encourage local development and support the efforts of community trusts and other voluntary groups.
"This community has seen a decline in population due to existing policies and planning regulations which deter development.
"Surely, in these challenging times, it is time to relax the rules and the public purse to allow communities to thrive and for people to have confidence in their ability to deliver."
The scheme attracted £650,000 of Scottish Government funding.
Housing minister Kevin Stewart said: "This innovative project shows what a community can achieve when empowered to take local decisions."
Local MSP Kate Forbes added: "There is no question housing is critical to keeping the communities of Staffin and the north end of Skye strong."
A crowdfunding campaign raised more than £7,000 for the project, with Gaelic singer Alasdair Gillies donating £3,000.