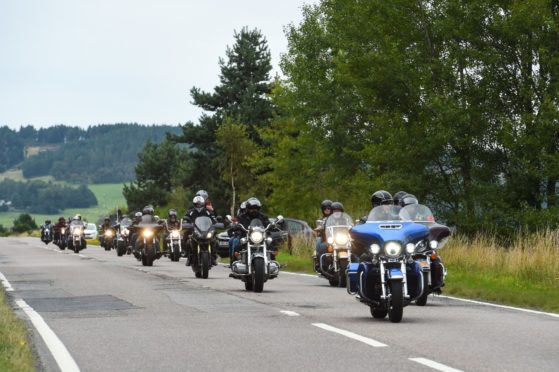 Motorbike enthusiasts are being reminded that a popular rally has been cancelled this year.
Thunder in the Glens annually attracts around 10,000 to the Aviemore area, but was cancelled as a result of coronavirus.
Organisers are keen to remind anyone travelling to the region expecting the usual entertainment that there is no rally – and urged them not to gather in large groups.
The Dunedin Chapter of the Harley-Davidson Owners Group, who organise the massive event, are aware a number of bikers are still planning to make their way to Aviemore next weekend regardless.
Thunder in the Glens is centred around the four Macdonald hotels that make up the group's Aviemore resort, and there are fears some have travelled north expecting there may still be some entertainment this weekend.
Rally coordinator George McGuire said: "Measures have been put in place to ensure that visitors who have booked and paid for the TITG weekend will be able to defer their bookings to next year's rally, or alternatively be given a refund.
"A number of would-be attendees have indicated they would travel to Aviemore for the weekend in any case, but contrary to information that's circulating there are no plans in place for any bands to be playing at either the Cairngorm Hotel or the Winking Owl over what would have been TITG weekend.
"We've been approached by the police to ensure that visitors are aware that there's no planned entertainment over the weekend.
"It's obviously a blow to all of us, including businesses in Aviemore, but we are all living in uncharted, unpredictable and challenging times.
"TITG will be back next year and we'll do our utmost to make it bigger and better than ever."
Requests for refunds for the 2020 event should be made before September 1 via Eventbrite or e-mail registration@titg.co.uk.  Tickets for next year's rally go on sale that day via www.titg.co.uk