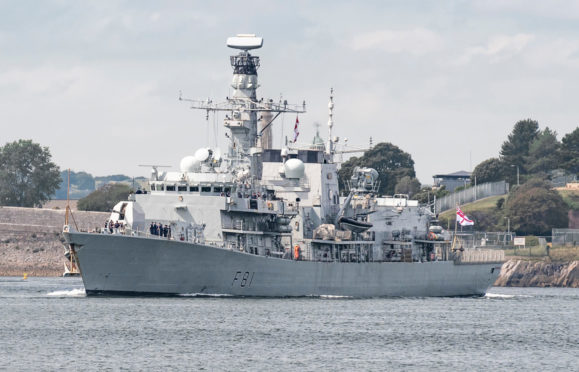 A Royal Navy warship was on hand to assist emergency teams today to rescue three stranded kayakers from a Highland loch.
HMS Sutherland was sailing along the west coast near Skye this morning when it received a request to assist local coastguard teams in rescuing three individuals from a nearby loch.
The kayakers had got into difficulty in Loch Torridon near Shieldaig shortly after 11am, sparking a hasty rescue operation.
Two casualties were airlifted out the water with the third casualty rescued by a small local fishing boat.
The casualties were taken back to shore to be assessed by paramedics.
Portree lifeboat was tasked to attend alongside the Kyle coastguard rescue team and the coastguard search and rescue helicopter from Stornoway after the alarm was raised around 11.17am.
A spokesman from Portree lifeboat said: "About 11.19 am, the lifeboat was tasked to an incident in the Loch Torridon/Sheildaig area. This is a multi agency tasking involving the Coastguard Helicopter, HMS Sutherland, Scottish Ambulance Service and a local fishing boat.
A group of three kayakers got into a trouble and called the emergency services."
Nearby fishing vessels also responded alongside the navy warship following a request by HM Coastguard.
A Maritime and Coastguard spokesman said: "At 11.17am this morning, HM Coastguard received a report of three kayakers in difficulty at Loch Torridon, in the north-west Highlands.
"Kyle Coastguard Rescue Team, the Portree RNLI lifeboat and the HM Coastguard search and rescue helicopter from Stornoway were sent to assist at the scene. HMS Sutherland and a number of nearby fishing boats and other vessels also responded immediately and assisted.
"The casualties were safely rescued at the scene and later passed into the care of the Scottish Ambulance Service for further treatment."