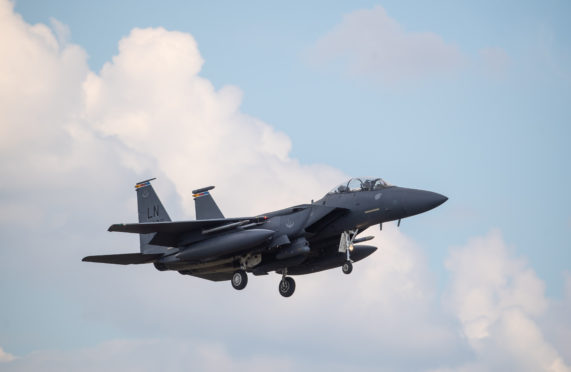 A passenger plane and US Air Force jets came "very close" to each other over Orkney leaving the civilian crew "shaken", an official probe has revealed.
The F-15 fighter jets were part of a formation of four when the incident happened over South Ronaldsay on March 6.
The UK Airprox Board, which investigates near misses, said it was the second similar incident in a year in the area.
The pilot of the Saab 340B – whose operator was not named – said that they were approaching Kirkwall airport at the time.
But at 3,000ft the first officer reported seeing an aircraft passing from right-to-left below.
Those on the passenger plane later said it "all happened so suddenly" and that "it was a bit unnerving to see a fast-jet, high nose up and obviously manoeuvring to avoid them as well".
The pilot of a F-15 fighter jet said that, as they recalled, the flight was made aware of the Saab by air traffic control.
The Kirkwall air traffic controller said that the military aircraft were not on the Kirkwall frequency and that they had no information on them.
The report was brought to the attention of the commanding officer of the US Air Forces in Europe 48th Fighter Wing, which is based at RAF Lakenheath in England.
"They are keen that any lessons identified are shared with all their aviators," said the report.