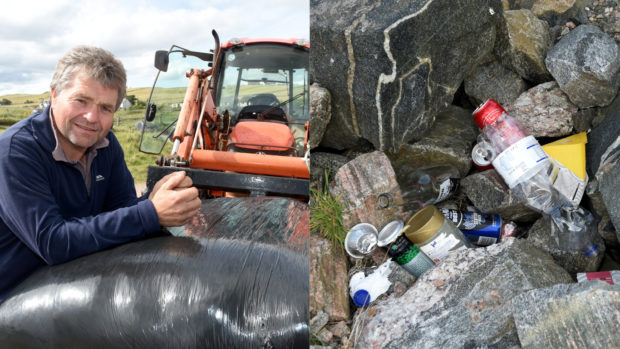 A far north farmer has described the hordes of campers descending on his village as an invasion "like the Vikings all over again".
Although the 2020 tourist season has only lasted a few weeks, for many in the north and west Highlands it is dragging unbearably.
The phrase "dirty camping" entered popular parlance this pandemic year, with the problems of litter, waste, vandalism and fires left behind by holidaymakers now emerging as a major problem.
Photo after photo on social media this summer documented the unsavoury evidence, and the despair of those living in the midst of it.
Durness in Sutherland, with its stunning beaches, landscape and reputation for a warm local welcome is a popular visitor destination.
But this year, the problems stemming from uncontrolled camping have generated a feeling of dread for many locals.
I know the locals are worried for next year, dreading it already."

Farmer James Mather
As many as 130 campers a night have been setting up tents on two patches of land in the village – often leaving behind smouldering fire pits, human waste and piles of litter in fields and on beaches.
Farmer James Mather says the experience is already causing people to worry about a repeat next summer and is appealing for tougher rules to deal with the problem ahead of next year.
Mr Mather has shifted a series of silage bales, at a loss of £18 each, into position along the main road through the village, attempting to block off an area of fragile machair destroyed by more than 50 tents a night during the peak of the season.
He said: "They're away, they're not thinking about us, but we're thinking about them and that leaves a dirty taste in your mouth.
"That's a big problem in a rural community because, as the nights get long, anyone with a fragile spot in them is going to suffer big time in the winter, and they'll be thinking, 'oh the tourists are coming', it's like the Vikings all over again.
"I know the locals are worried for next year, dreading it already."
Yet Mr Mather is an emphatic supporter of tourism in the Highlands.
In a normal year he adds to his income by running the Cape Wrath minibus, although he's been unable to do so this year due to social distancing restrictions.
He said: "Tourism is extremely important for the north and west, and I along with everybody else am delighted to have a flow of tourists.
"But this is not a flow, this is plundering, pillaging.
"They're taking stones off the dykes to make campfires, we witnessed that yesterday.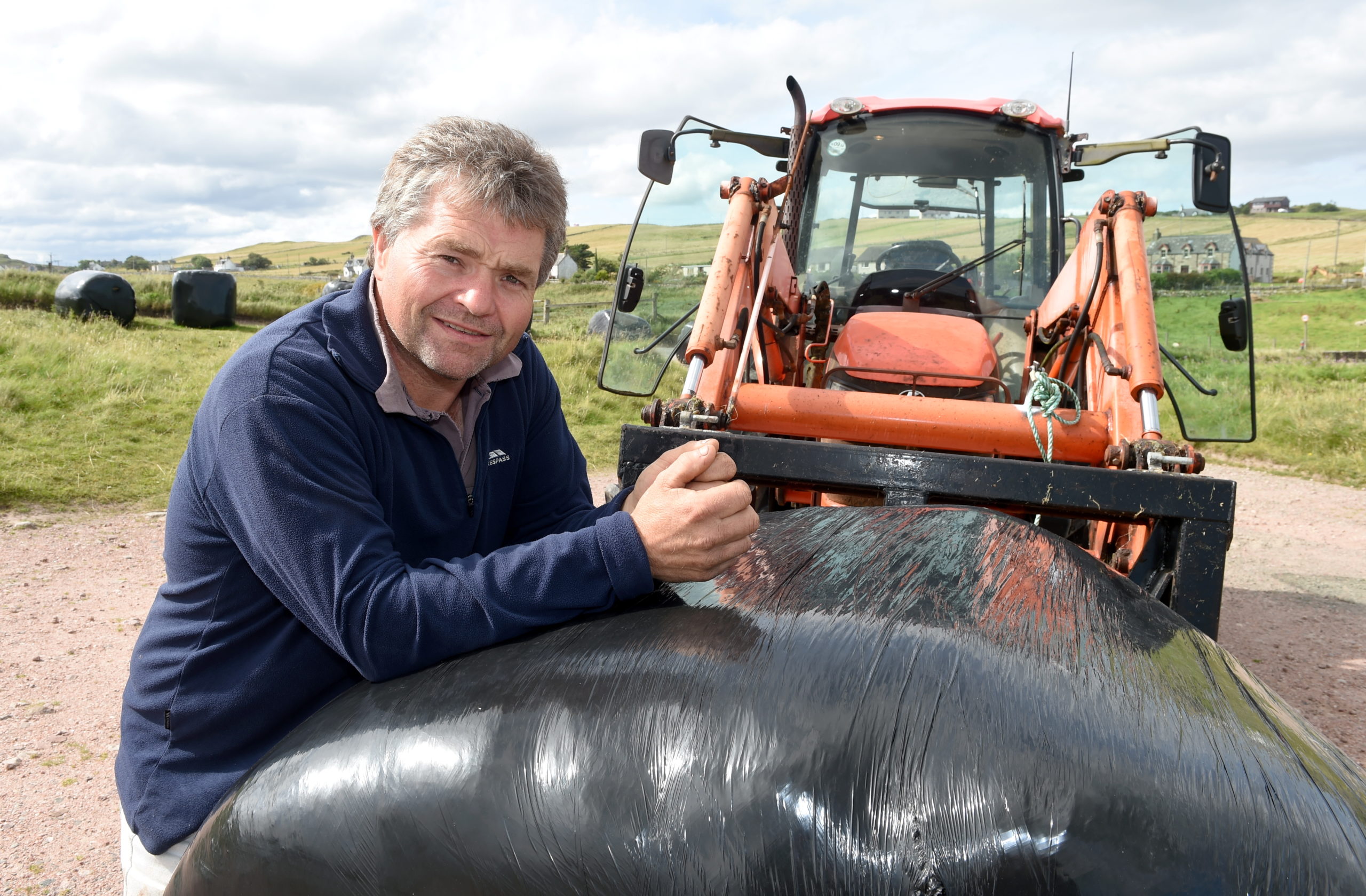 "They challenged me and my neighbours when we were baling late in the evening as we do at this time of year – and told us to stop because the noise was bothering them.
"When they go home, we still stay here, when they make a mess we have to tidy it up.
"I spend half my day taking bags of human waste from the stones at the beach, returning stones to dykes, re-turfing fire pit areas.
"It's taking up a huge amount of negative brain space, and I don't want to be negative living in such a great area, that's wrong.
"It isn't acceptable. We wouldn't to that in their environment, why should they do that to us?"
Mr Mather said everyone needs to pull together to tackle the problem, with support in place from the Scottish Government.
"We need to start looking at the countryside code and beef it up", he said.
"It's a scrambled mess, I've read it end to end many times. The definition of wild camping is anybody's guess.
"There has to be a comprehensive package of legislation put together, try it, test it and if if doesn't work, change it, go forward with a positive attitude.
"It's the right to roam, not the right to wreck."
Highland councillors are considering the ramifications of creating by-laws to control irresponsible camping in Highland hotspots.
An internal briefing points out that, while the local authority can make by-laws, such measures would not come into effect until confirmed by Scottish ministers.
The process involves considerable legal process and consultation.
Practical considerations include how they would be monitored, which areas would be identified and the risk of moving the problem elsewhere.
With criminal legislation already in place to cover some of the issues, seeking by-laws is generally seen as an action of last resort, the briefing states.
Inverness councillors have pressed the local authority for rapid action to tackle irresponsible camping before next summer.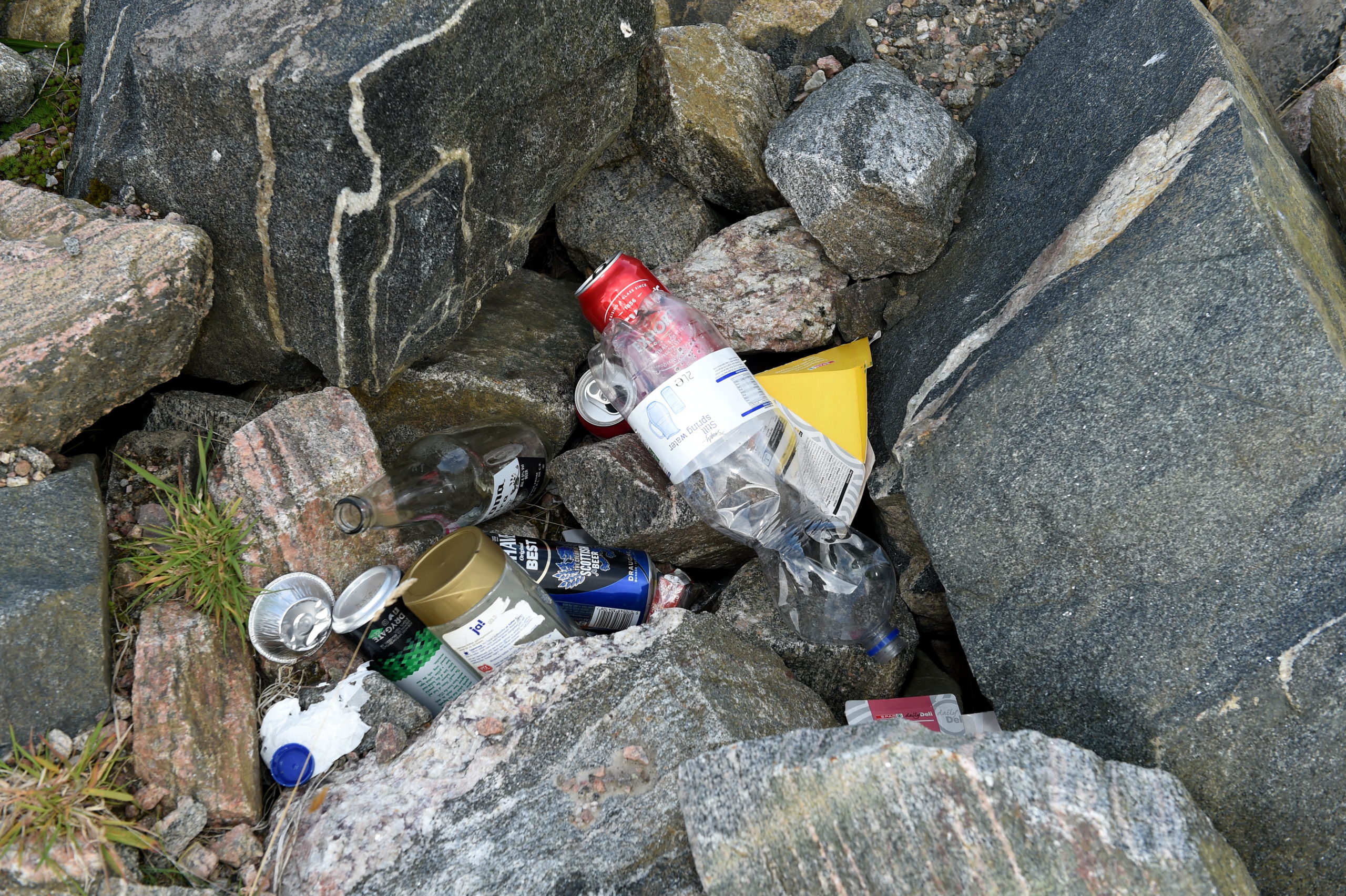 Councillor Ron MacWilliam said: "It is imperative, as the summer season draws to a close, that every community, public agency and interest group is involved in thrashing out solutions to make improvements over this winter and well in advance of next year's influx."
Council leader Margaret Davidson said the body needs to work with the Scottish Government to plan and deliver improvements "at pace".
A government spokesman said: "We are aware of a number of incidents of littering, anti-social behaviour and damage to our natural environment since lockdown restrictions began to ease and have been consistently clear that this behaviour is completely unacceptable, and disrespectful to local communities.
"We continue to engage with local authorities, Police Scotland and others to discuss possible solutions to anti-social camping and we are considering what further action can be taken."
Local survey shows by-laws and fines as preferred solution to irresponsible camping
North-west Sutherland residents set up "NC500 The Land Weeps", a social media group, earlier this year to document evidence of dirty camping and pressure politicians to take action.
The group has carried out a survey asking visitors to the page how they would tackle the problems.
They had 728 responses, of which 322 came from people living along the famed tourist trail, and the rest from visitors using different forms of accommodation, from hotels to campsites and roadside parking.
Wild campers, as defined by the Scottish Outdoor Access Code, also answered the questionnaire.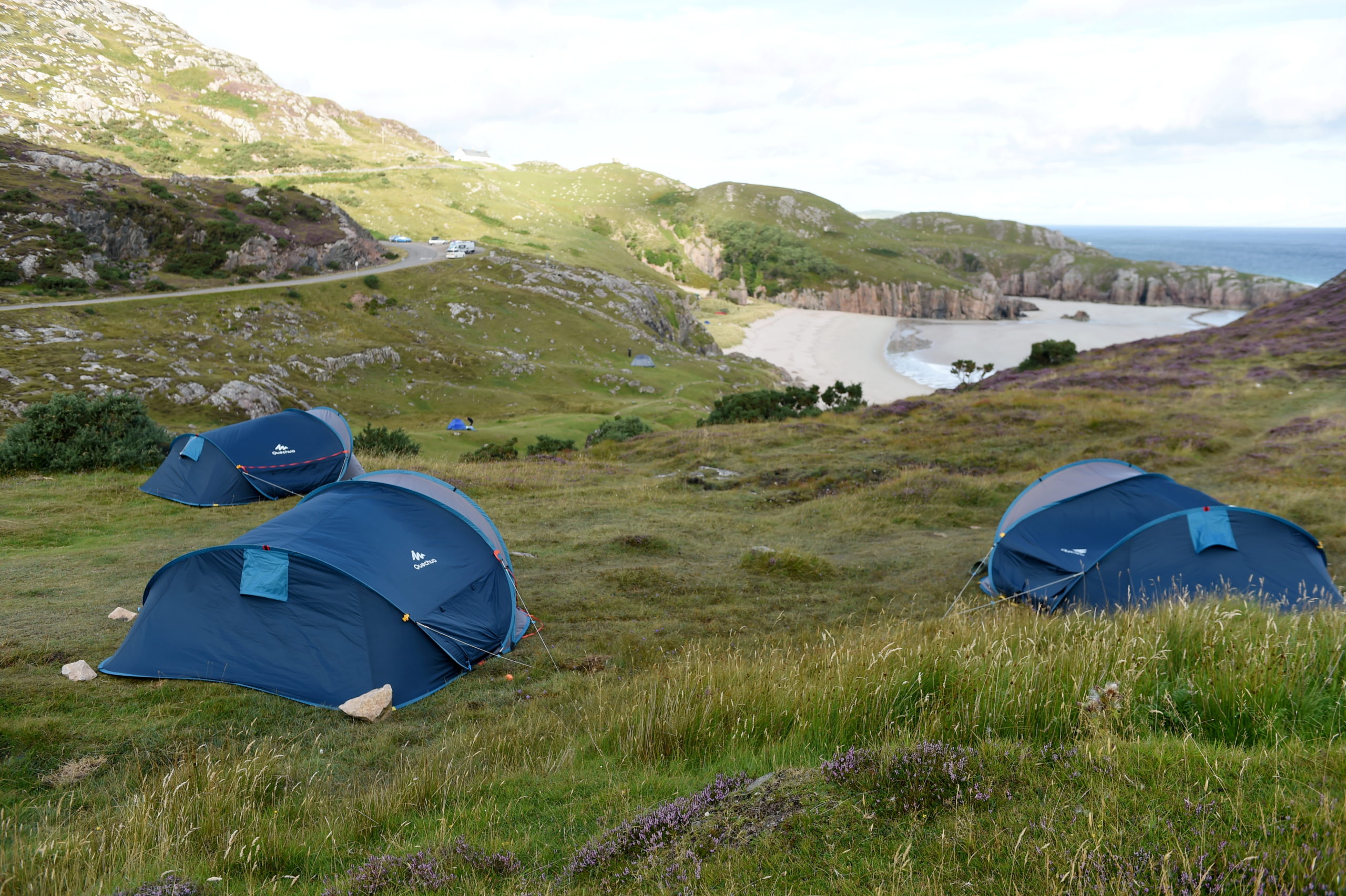 They were supplied with a list of options on how best to tackle the problem.
It was suggested by-laws could be enacted to regulate roadside camping in inappropriate places such as within villages and next to historic buildings.
The prospect of imposing fines on people for littering, not disposing of faeces properly and staying overnight in prohibited areas was also an option.
People were also asked their thoughts on providing more public toilets and bins, encouraging less marketing and promotion of the NC500, and discouraging the development of small campervan sites.
By-laws and fines came top in the survey as a way of getting the issue under control, followed by the idea of supplying more public toilets and bins.
Resident Margaret Meek, who is part of the group, said: "The survey was very much a trial for us and we are delighted with the response.
"The biggest surprise was the almost universal support for by-laws and fines. It would be good to explore this further.
"We would like to develop a more detailed questionnaire that would allow us to investigate more fully residents' attitudes towards the NC500 route, their views on the current problems and gauge support for potential improvement actions.
"We hope that this will give local people a voice and intend to make the result available to such organisations as Highland Council and the Scottish Government."
'It's beautiful, it would be a shame to wreck it': Views from tourists on the NC500
Tourists visiting the Ceannabeinne near Durness spoke out against irresponsible campers who are giving visitors a bad name by "wrecking the place".
A disposable face mask floated in a burn, another was caught in the heather, a litter bin was overflowing and a motorhome discharged grey water just off the road when the Press and Journal visited the beauty spot.
Sue Firbank from Poole in Dorset was holidaying more than 700 miles north with her family in a hired motorhome.
I've seen human waste and litter, which is wrong. It's a shame if people start wrecking the place."

Simon Niblett
She said: "We tried to park further up but there were lots of 'no parking' signs, so we decided to avoid it, as we didn't want to upset any of the locals.
"We stopped at one of the hotels and asked the hotel owner if we could park there and he said 'no, I'd rather you didn't', so he suggested further down here for parking.
"He did say thank you for asking because a lot of people aren't, and that's really sad for them, because we can understand, it's their home and their livelihood as well."
Chemical waste disposal had proved a slight problem for the family.
Mrs Firbank said: "We found that one campsite wasn't happy for us to do it because we weren't staying there, so we looked for another one and we just asked them whether we could donate to a charity and they were quite happy."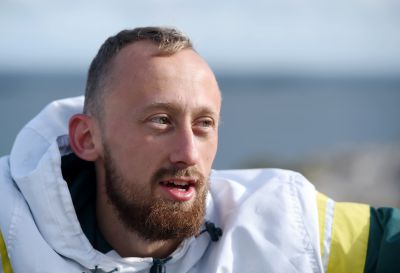 Simon Niblett from Cheshire was doing the North Coast 500 for the first time and said his group was leaving nothing behind.
He said: "I've seen human waste and litter, which is wrong. It's a shame if people start wrecking the place."
Keen cyclist Josh Williamson was on holiday with friends, camping overnight near Ceannabeinne quarry.
He said: "Just in this one corner alone there's a lot of litter.
"It's not hard to take it away, especially for the people who have vehicles.
"My understanding of right to roam is that on land like this, as long as you're respectful, not ruining the livestock or leaving anything behind, you're alright to camp."
Along the coast, sisters Anne Marie and Karen Bell had spent the night in their campervan on the verge outside Balnakiel cemetery.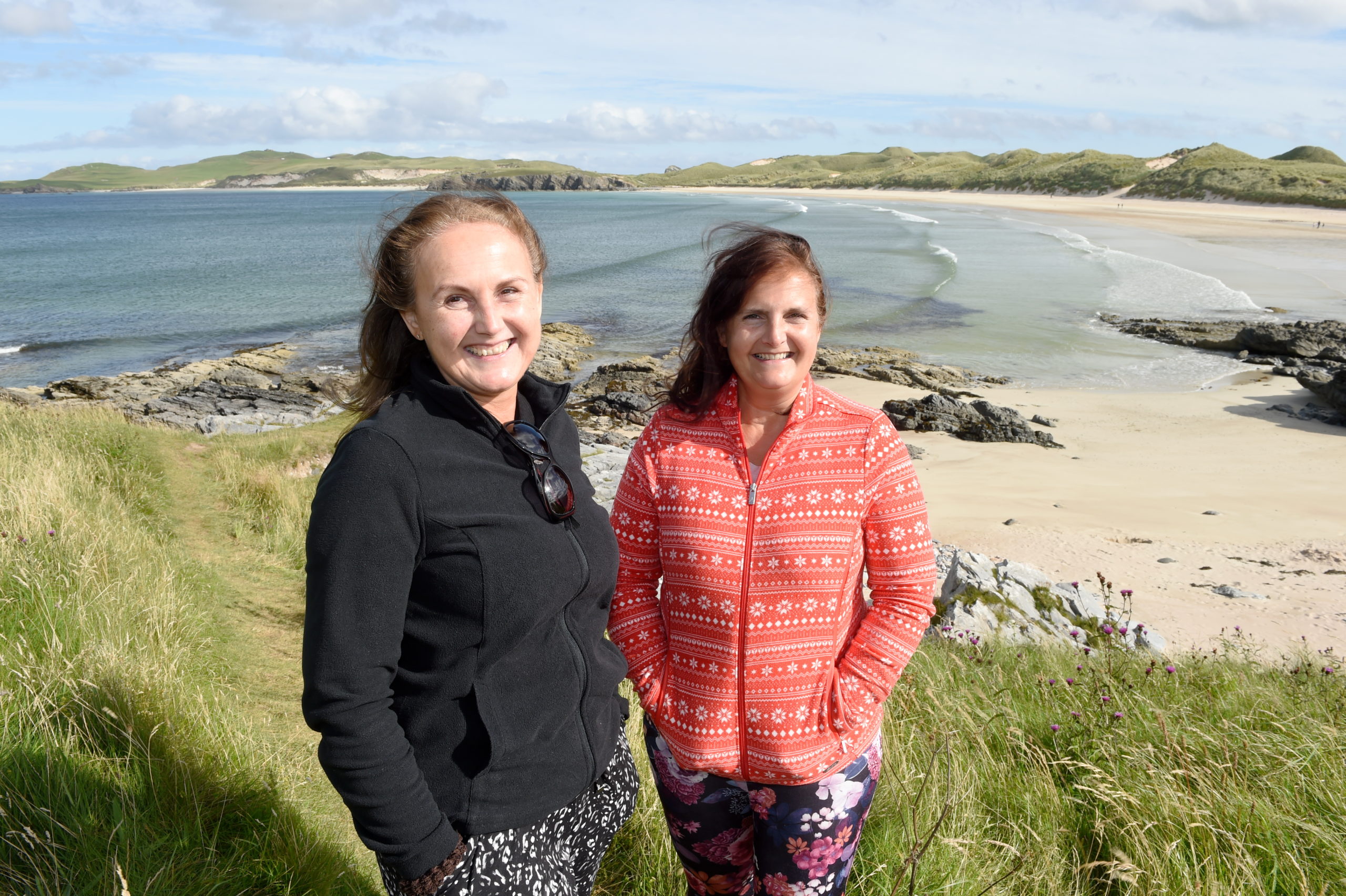 Karen said: "We tried to book and couldn't get in to the local campsite. It's beautiful down here, we were lucky to find this spot, but in an ideal world we wouldn't be parking next to a cemetery."
Anne Marie said: "In a lot of ways we are glad because the campsite was hugely busy.  I don't think I would have used the facilities anyway because Covid is still here, whereas this way we are in our own bubble."