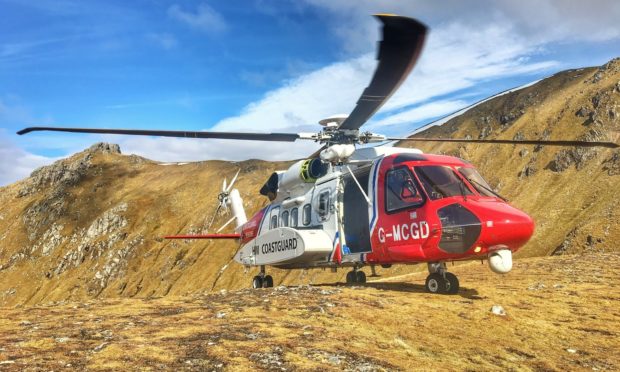 A search and rescue helicopter based in the Western Isles has undertaken its 1,000th job in just seven years.
Based in Stornoway since 2013, Rescue 948 reached the milestone this week after crewmembers Captain Dan Lewis, senior first officer Marc Grant, winch operator James Lyne and winchman Andy Walker were tasked to Ardmair, to the north of Ullapool.
They aided in the recovery of three people who had been forced to abandon their boat and were stranded on rocks.
Mr Walker lifted one of the stricken trio into the helicopter and on to the safety of a nearby beach.
The remaining two casualties were able to return to their vessel and steer themselves to safety.
Captain Stuart Cunliffe, the chief pilot of the helicopter, said: "I am immensely proud of the lifesaving work the team at Stornoway has been delivering since 2013.
"This milestone would not have been possible without their unwavering dedication and commitment to helping those in need.
"The Western Isles and wider Scottish coast present many challenges, as we often experience high winds and rough sea conditions in remote locations.
"Our team work closely with the emergency services, including police, ambulance and fire and rescue, to ensure the ongoing safety of the public.
"We are proud to celebrate five successful years working on behalf of HM Coastguard, and maintaining the very highest safety and efficiency standards, which the service is renowned for."
The helicopter has been deployed in some daring rescues, with one of the most notable coming on the isolated archipelago of St Kilda in 2018.
An elderly man was spotted clinging to a cliff edge and required urgent assistance having slipped and fallen some 30 hours earlier.
Winching him onto the helicopter was not an option, so coastguard rope technicians jumped into action and were able to bring the man to safety.
HM Coastguard director Claire Hughes said: "There are people right across the UK and even further afield who owe their lives to the HM Coastguard search and rescue helicopter crews.
"We are grateful for their continued support, particularly during these challenging times.
"Each milestone is a testament to the sustained hard work and commitment of our crews."