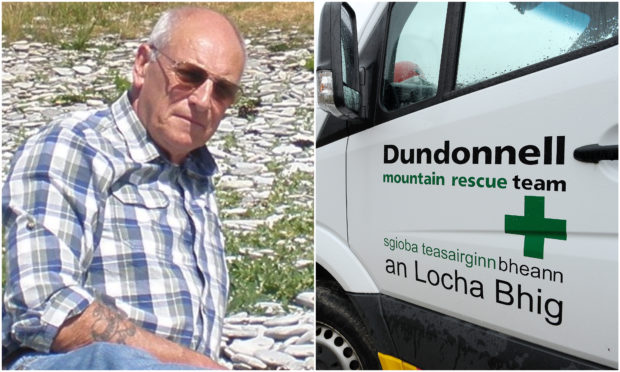 One of the original members of Dundonnell Mountain Rescue Team has died following a short battle with cancer aged 70.
Family man Roddy Green died at his home in Loggie on the banks of Loch Broom on Saturday August 22 surrounded by members of his family.
His funeral will take place today at Ullapool Church of Scotland.
Mr Green, a much loved and devoted husband to Isabelle, spent much of his life working as a crane operator, a job that took him across the globe and into some contrasting climates through working for Weldex International.
The Loch Broom man was also famously one of the Kishorn Commandos employed by Howard Doris in the mid-1970s as the main build of the Ninian Central Platform came together.
Mr Green remained with Howard Doris until departing for Weldex a decade later.
The doting father to Alan, Sharon and Wayne retired in 2015 and spent much of his recent time in the company of his family, including his five grandchildren Robyn, Jaden, Coran, Drew and Eilidh.
Mr Green was one of the original members of the Dundonnell rescue team who he joined in its founding years in the 1970s and on many occasion would take off from the family home in all conditions to assist others in their hour of need.
Mrs Green recalled a rescue whereby the Loch Broom man and his teammates spent a full night in the hills searching for a three-year-old who had been reported missing, only to find the toddler curled up fast asleep in a ditch.
The couple would have been 50 years married this October, with Mrs Green describing her husband as a "loving family man".
She said: "Roddy was a very reserved person but he was always at hand and if there was anything that cropped up. He was always willing to go and help out and would do anything for anybody.
"Volunteering with the Dundonnell Mountain Rescue Team was always something Roddy enjoyed doing.
"He was very family orientated and he couldn't have been any better.
"He had a wide experience of working everywhere.
"We would have actually been married 50 years in October. We had a long and happy life together.
"He was very loving, right to the end.
"His children and grandchildren were the apple of Roddy's eye and he cherished spending time with his all of his family.
"With his workmates, he enjoyed company and socialising but when he was at home he was always a home bird."
Dundonnell Mountain Rescue Team has also paid tribute to their former colleague.
Team leader Iain Nesbitt said: "We're very sad to have lost Roddy and our thoughts are with his family and friends."