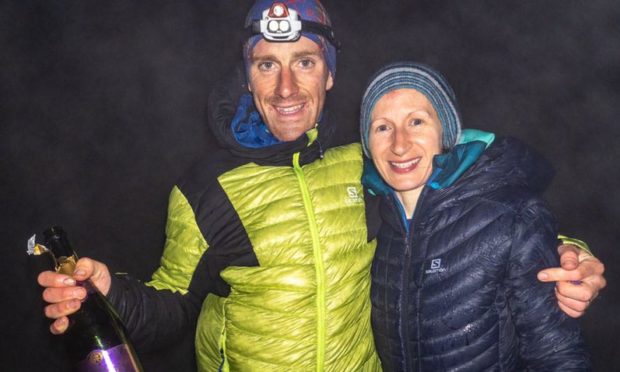 A north man has set a remarkable new record of conquering every one of Scotland's 282 Munros – and by travelling between them on foot, by bike or even in a kayak.
Under his own steam, ex-Commando Donnie Campbell yesterday completed a continuous self-propelled round of all the Munros – mountains over 3,000 feet – in just 31 days, 23 hours and 2 minutes, shaving more than seven days off the old record.
In a bid to beat gathering storms he conquered his last two Munros – Ben Kilbreck and Ben Hope – at 0.35am and 5.02am respectively.
Such was his determination he had not slept for the past two days.
After conquering his final mountain, Mr Campbell said: "I am really tired. There is a good path up Ben Hope but it was about 50mph at the top.
"I have had tougher climbs – through bog and heather. But I wanted to get it done as quick as possible and beat the storm.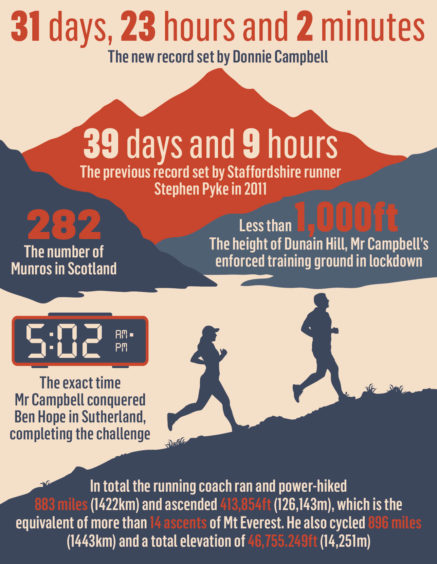 "I have done it quicker than I thought because I have had decent weather – there were points I thought 'this is rubbish', but at no point did I want to give up.
"People have come out to support me and I thank them. I just want to get a shower and some sleep now."
Asked if he would do it again, Skye-born ultra-runner Mr Campbell replied: "No, I've done it once – that's enough."
The former Skye Mountain Rescue Team member shattered the record of 39 days and nine hours, held by Staffordshire runner Stephen Pyke – a best which had stood since 2011.
On Monday alone he completed an incredible 18 Munros – climbing Slioch, the Fisherfield 5, An Teallach, the complete Fannichs, and Ben Wyvis in a single day.
The remarkable feat of endurance involved 886 miles of running and 778 miles of cycling.
Mr Campbell had been plotting the attempt since last summer, working on his route over autumn, a course which saw him start on the Isle of Mull, kayak over to Glenfinnan, traverse the Cairngorms, hit the Southern Highlands before returning northwest, ultimately concluding on 3,041ft Ben Hope in Sutherland – the most northerly Munro.
Due to the coronavirus pandemic, Mr Campbell was forced to prepare for his attempt on Dunain Hill on the outskirts of Inverness, which is less than 1000ft.
A former shinty player, Mr Campbell joined the Marines as a teenager before returning to his home of Skye and developed his skills on the island's famous Cuillin Ridge.
He is now one of the country's most respected ultra-runners, becoming only the second person to complete the fearsome Ramsay Round –a 56 mile route of 8,500m ascent and 23 Munro peaks in just 24 hours – in winter conditions, and in record time.
Mr Campbell was backed up by a support team of his wife Rachel and fellow runners and cyclists.
Mr Campbell is raising funds for the Red Cross, with more than £7,900 raised to date.