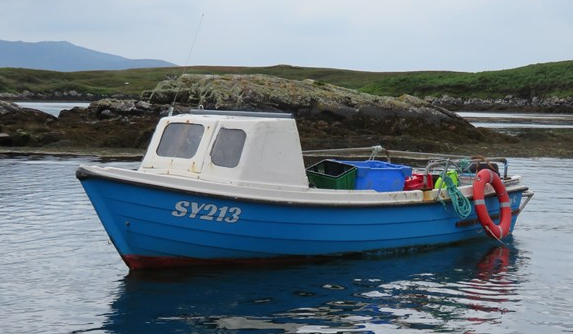 A lone lobster fisherman who died after being found face down in an Outer Hebridean sea loch could not swim and was not wearing a lifejacket, an official probe has found.
Recently re-married Michael Monk, 57, was fishing at Loch Carnan on South Uist less than a week after being discharged from hospital.
At about 12.30pm on July 24 last year the skipper of the single-handed creel fishing boat May C was found face down and unconscious in the sea by the two crew of the fishing boat Sparkling Star.
They had seen Mr Monk's 19ft vessel close to rocks and well away from his creels.
The Marine Accident Investigation Branch (MAIB) said that it is most likely Mr Monk fell overboard when trying to clear the propeller of weed or other fouling.
Mr Monk, who lived at Benbecula, had owned and operated May C for 12 years and had completed all the mandatory training.
The skipper had suffered an illness that often needed medical treatment, and he had been discharged from hospital six days before the accident.
He was not taking any prescribed medication, but was physically weaker than before.
The report added: "The skipper could not swim. On the day of the accident, he was not wearing a personal fotation device (PFD) or carrying a personal locator beacon (PLB). The postmortem examination report stated that the skipper's cause of death was drowning."
That meant that his chances of survival were "very low" when alone and falling into cold water.
The report said: "Single-handed fishing operations are extremely hazardous, primarily because there is no-one there to help if you get into difficulties.
"It is important to recognise the severe hazard associated with falling overboard. The best way to combat this is to ensure that every precaution has been taken to prevent going in the sea in the first place, and if that does happen, then measures are in place to increase your chances of survival and rescue."
At the time of the accident local councillor Calum Macmillan, who knew Mr Monk, said: "He was a decent, hard-working family man, who was kind to his community."