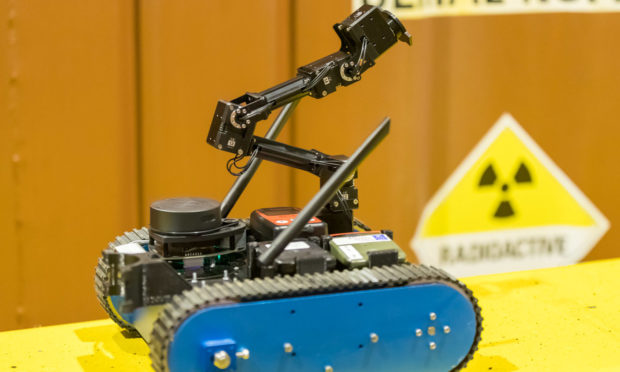 A mobile robot will be used for the first time in one of the most contaminated and inaccessible parts of the Dounreay nuclear plant to provide vital information on the next steps in its decommissioning.
The technology will provide the first images in decades from inside the Caithness site's Fuel Cycle Area (FCA).
The FCA consists of two reprocessing plants, waste stores and laboratory facilities where spent nuclear fuel was examined and reprocessed.
As part of the site clean up, Dounreay Site Restoration Ltd (DSRL) is working with the Robotics and Artificial Intelligence in Nuclear (Rain) Hub, a consortium of universities led by the University of Manchester, to explore ways to overcome some of the challenges.
A remotely-operated vehicle (ROV) developed by Rain will be used to record high-resolution video and 3D mapping along more than 100m of under-floor drains in the FCA while recording radiological measurements using specialised instruments.
The Vega is a small, tracked ROV that uses lasers to determine where they are relative to the walls and other obstacles.
Jason Simpson, project manager for the decommissioning of the laboratories, said: "The project team will use the information to develop a mock-up of the drain and develop decommissioning techniques that will safely clean up the drain and surrounding area.
"The legacy of the operations in our labs is that we have areas of contamination that are very radioactive and difficult to access using our normal procedures. These decommissioning challenges could be addressed using robotics and we are pleased to be working with the RAIN Hub to find solutions."
Barry Lennox, who leads the RAIN research hub, said: "Mobile robots have not been used frequently in the nuclear industry and the information our robot returns should provide critical information to allow DSRL to plan the next steps in its decommissioning.
"The purpose of it is that it can carry radiation detectors and cameras into legacy facilities so that the site owners can get a better understanding of what materials are in those facilities. With this information the site owners can make more informed decisions about how they will decommission them."