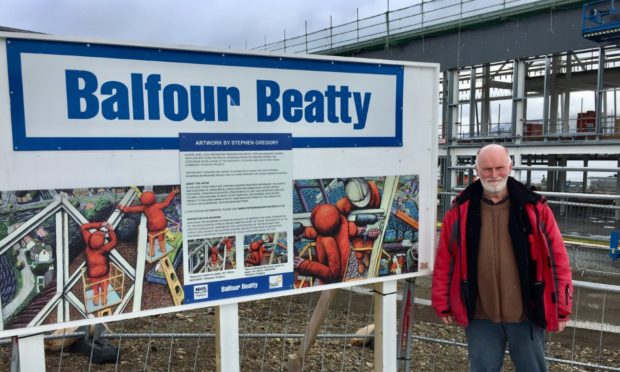 A building site has become a public exhibition space for a Skye artist who was inspired by a major construction project.
Stephen Gregory produced three pastel drawings during the early stages of the Skye, Lochalsh and South West Ross Community Hospital development. Two are now on display at the entrance to the site in Broadford.
Mr Gregory, 69, who is highly regarded for his paintings of large metal structures and fabrication in shipyards and construction sites, said: "I was inspired by how this huge, modern structure fits in with the surrounding natural environment of Broadford.
"I am very pleased with my finished works and delighted that two of them are on show at the site for the public to enjoy."
'Bappmen' and 'More Unfinished Business' show people working in the steel frame. A later third drawing 'A Good Spread' depicts workers pouring concrete.
The new hospital is being delivered by hub North Scotland on behalf of NHS Highland, along with the Badenoch and Strathspey Community Hospital and Health Care Centre in Aviemore in a £40 million project. Balfour Beatty is the main contractor and the hospitals are due for completion in 2021.
Hub North Scotland project director Linda Shearer said: "The new hospital will bring many benefits to the communities it will serve, and we are delighted the construction has inspired Stephen to create these remarkable works."