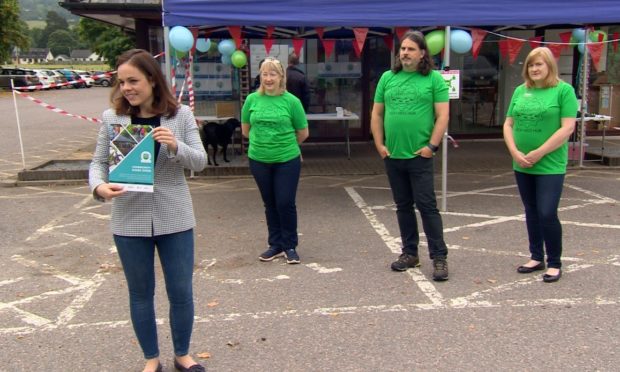 A group aiming to create a tourism and transport base on the shores of Loch Ness has been "overwhelmed" by the response from residents to a community share offer to help fund the initiative.
The launch of the share scheme at the weekend, attended by local MSP Kate Forbes, raised more than £32,000 – 64% of the initial target of £50,000.
It is proposed the Loch Ness Hub will be a community transport, tourism information and travel centre and the base for baggage transfers.
It will also promote and provide information and ticket sales for businesses and attractions within the Glen Urquhart and wider Loch Ness area, creating local employment and channelling surplus profits back into community projects.
The project was set up by the Glen Urquhart Rural Community Association (Gurca) following the community buy-out of the former Tourism Information Centre in Drumnadrochit.
So far £205,000 has been raised, including the initial income from the share offer, with Gurca hoping it will eventually bring in between £50,000 and £110,000 by the time the offer closes on 17 October.
The project has been delayed by the Covid-19 pandemic, but is now planned to be ready by spring 2021. It is proposed to purchase and incorporate an existing baggage handling and transfer service.
Project secretary Carolyn Wilson, a founder member and trustee of Gurca, said: "We had a great response on the first day of the share offer. It really was as good as we could have hoped for. The target of £50,000 is the minimum we need to take the project forward and we are well on the way towards that.
"We are very confident we will meet the minimum target and we still have another three-and-a-half weeks to go. It will be interesting to see where we are then after such a terrific response so far.
"Everything was halted in its tracks by Covid-19. We had hoped to do the share offer earlier this year and start this season, but we are now aiming for next spring."
Nearly 90% of the £25 shares have been bought by local people, well above the 75% required under the scheme's regulations: "It is exactly what we were hoping for and demonstrates we have community support for what we're doing", said Ms Wilson.
Gurca launched the project after VisitScotland vacated the building in 2018 and a community asset transfer was widely supported.
A transport feasibility study by Gurca partner Soirbheas highlighted some key challenges locally, including commuting to and from Drumnadrochit and taking children to school without using fossil fuel cars.
Solutions included establishing a transport hub, improving public transport, expanding the charging network for electric vehicles, a care share scheme and introducing e-bike hire and a community transport scheme in the area.