VIDEO: Whale watchers treated to 'once in a lifetime' experience off Scottish Island
By
Gregor Aiken
September 22, 2020, 4:58 pm
Passengers on a Tobermory-based tour boat had their cameras at the ready when they were greeted by a pair of friendly and inquisitive minke whales.
The Sea Life Surveys vessel, MV Highest Apple, was on a wildlife adventure trip on Sunday in the seas off the Island of Mull when crew members spotted a number of minke whales feeding in the distance .
Turning the engines off, passengers and crew sat quietly, in mirror-calm waters as a younger whale began getting closer to the boat.
To the thrill of all onboard it began surfacing just metres away, swimming underneath the boat, blowing bubbles and spy-hopping repeatedly. Soon after, it was joined by another, larger individual, who started doing the same.
Guide AJ MacLeod, who captured a video of the whales, said: "Seeing these magnificent animals in the wild anytime is an absolute privilege, but to experience them behaving in this manner, on their own terms was quite humbling."
Minke whales are the smallest baleen whale found in seas around the British Isles, growing up to 10 metres in length. They can be seen regularly along the west coast of Scotland where they migrate to feed between the months of April and October.
Whilst they are usually quite shy and elusive animals, juvenile whales can sometimes be very curious and inquisitive around boats.
Over the course of 30 minutes, the whales displayed a variety of behaviours including spy-hopping and rolling over under the water, showing off their bright white bellies.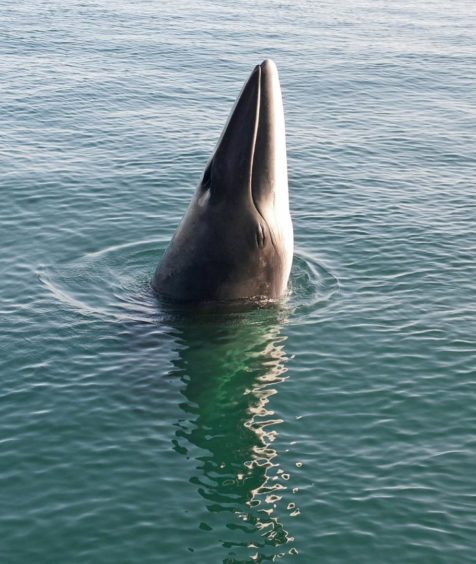 Head guide and zoologist Megan Francis explained: "Minke whales have a narrow, pointed head with small eyes positioned on either side, so these behaviours allow the whale to get a better look at the boat and all those aboard – a case of who's watching who."
Captain Andrew Kirsop added: "It was a once in a lifetime experience.
"Whilst encounters with whales like that can be more common in other parts of the world, to see it in UK waters is absolutely unbelievable and I'll never forget it."