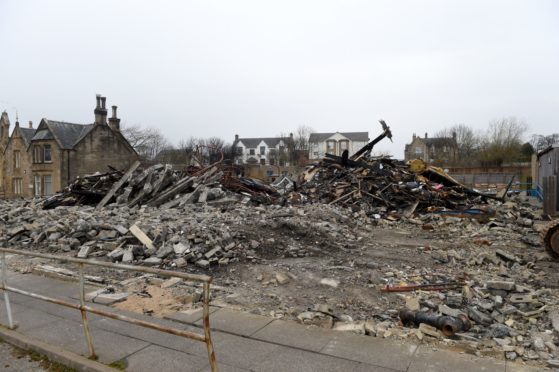 Easter Ross primary pupils whose school was destroyed by fire and Skye primary youngsters whose classrooms are crumbling have learned they now top of a council list for capital funding.
A major consultation is already underway to decide on a new home for Park primary youngsters, while Broadford is to undergo an £11 million replacement.
Also in Easter Ross, the replacement for Tain Academy has been prioritised by the council, who will press ahead with the aim of completing that project by 2024.
Park Primary children have been sharing teaching space at other schools since a fire destroyed its classroom block in February.
Primary pupils relocated to Invergordon Academy, with the nursery going to South Lodge primary.
Consultation is ongoing with parents and staff on long-term options for a rebuild on the Park site or elsewhere in Invergordon.
In the medium term, the parents and staff favoured moving back onto the Park site, so the council is prioritising the measures needed to do so.
Three double-classroom modular units need to be brought in from Merkinch primary, where they were used for decant accommodation during the construction of their new school.
This would be done during the October break.
Additional kitchen and dining accommodation would need to be installed, and these is still being costed.
The nursery block needs to be re-roofed and services restored, including the bio-mass boiler.
The council estimates the return to Park could take place next April, and says funding for the project will be taken from the school improvement budget.
Local councillor Carolyn Wilson said: "The four local members have worked together to try and help the council gather the views of the parents, stakeholders and staff.
"It's very important to the four of us that the parents see their children back at the Park site because that's what they have made clear in the consultation that took place."
Broadford parents, meanwhile, have long been campaigning for a replacement for their dilapidated building.
The £11 million replacement will include a library, nursery and council service point.
It is hoped that once the nod is given, construction could start quickly as considerable preparatory work is already in place.
The progress has been welcomed by local councillor John Finlayson, chairman of the council's education committee.
Mr Finlayson said: "I am delighted that all three projects are moving ahead, and that Broadford Primary School is the number one priority in terms of the council's application to the Scottish Government's learning improvement programme.
"The wider ambitions of the community in terms of a new school, community wing and additional housing are a step nearer to becoming a reality."
Skye MSP Kate Forbes added:  "I know that teachers, parents and children have been exceptionally patient and have waited far too long for a new school."
The £43 million Tain 3-18 Campus is due for completion by August 2024, and has already been approved for funding by the Scottish Government.
In the face of stringent energy efficiency standards, officers say the Passivhaus design approach is the most likely way to proceed, but this is likely to increase costs.
The campus is about to go into the design stage, and council officers say it won't reach 'shovel ready' status until April 22.
A £38 million new build proposal for Nairn Academy comes next in the list of council priorities, followed by remedial work on various Inverness schools and a new-build for Beauly Primary.