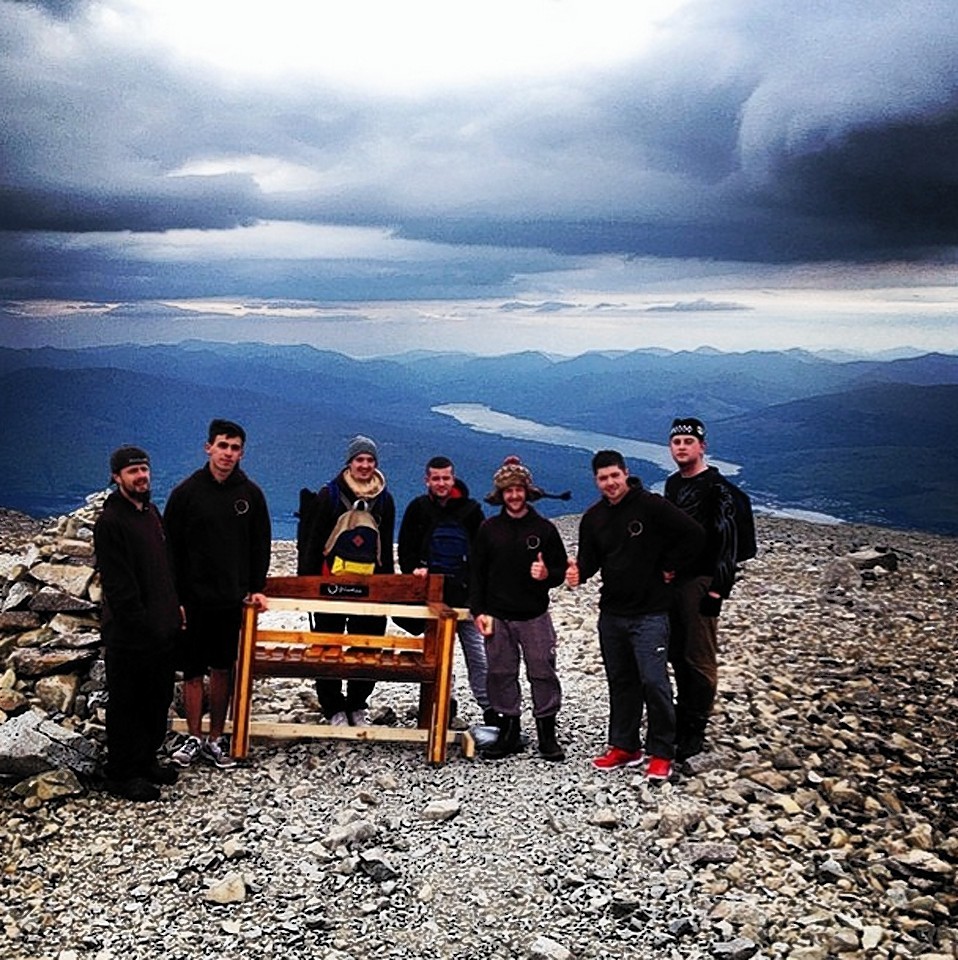 A team of charity hikers provoked outrage when they tramped to the top of Britain's highest mountain – and cemented a bench to its summit.
Mountaineers and conservationists were left furious at the bizarre Ben Nevis stunt and compared the group's actions to fly-tipping and 'littering'.
The four men involved also left the wooden poles used to carry the bench and a bag full of rubbish on the summit of the mountain, which attracts more than 100,000 walkers every year.
Their actions brought an online avalanche of calls for it to be removed.
And a local mountaineer took it on himself to remove the offending bench – with the help of other walkers who happened to arrive while he was chopping it up on top of the 4,409ft mountain.
Davie Scott, of Kinlochleven, said he cut the bench into 27 pieces and asked people he met at the summit to carry a piece down the hill.
And, to ensure every last bit was taken off the Ben, he asked them to drop them off at the Ben Nevis Inn in Fort William, where he counted them before making sure all 27 pieces were thrown in a rubbish bin.
Meanwhile, the fundraisers were shocked by the fuss they had caused and the charity involved – Children's Hospice Association Scotland (CHAS) – said it had been unaware they were intending to leave the bench at the top.
Mr Scott today described their actions as "fly tipping" and pointed out that benches are not even allowed as memorials to people who have died on the Ben.
The 29-year-old said: "I class it as fly tipping, not only did they leave the bench up there, but they left a big bag of rubbish and 10ft lengths of wood around them to rest them on their shoulders.
"There are poor souls who die on Ben Nevis and their families aren't allowed to put a bench up there to commemorate them.
"Then these people think they can just carry a bench up there and everything's fine."
He added that anyone who goes out into the mountains should follow the code – take nothing but photographs, leave nothing but footprints, kill nothing but time.
A spokesman for the John Muir Trust said the organisation had "an amicable discussion" with the people responsible.
He said: "Essentially, it was a bunch of young guys doing a charity event and they never really thought there was anything wrong with it.
"We managed to get in touch with them and they agreed they would remove it, but it has already gone so the young guys have said they will go up there at the weekend to remove the concrete."
He added that they could not allow anyone to leave anything on the summit as they needed to keep the Ben "as natural as possible".
He said: "If one person was allowed to leave a bench on Ben Nevis, we would get another and another until it looked like the bandstand in Kelvingrove Park in Glasgow."
Chairman of the Nevis Partnership, Patricia Jordan, said: "We're always amazed that people dream up these stunts and don't think to check with local people first.
"In this instance, it's good that an arrangement has been made for its removal."
And Jon Heggie, director of fundraising and communications for Children's Hospice Association Scotland (CHAS), said: "The event did not involve any CHAS staff and we were unaware that the team was planning to leave a bench at the top of Ben Nevis.
"We were only made aware of this fact on Monday, when we were contacted by another supporter.
"We're pleased to see that the team involved is working to rectify the situation and remove the bench."
The team could not be contacted for comment, but some of them provided online explanations for their actions.
Matt Blake, of Glasgow, said: "We honestly can't believe the harshness of the comments some people are leaving and the private messages people have been sending some of us."
He added: "We didn't realise this bench would be considered 'litter'."
And he said leaving the other rubbish at the summit had been a genuine mistake.
Mr Blake pointed out that they had built the bench themselves and carried it up the Ben to raise money for charity.
He said: "We apologise for any danger we caused to people – we only ever had good intentions."
Another member of the group, Jay Bell, said: "Small minded people have quite easily overlooked the fact we accomplished this task for a great cause."