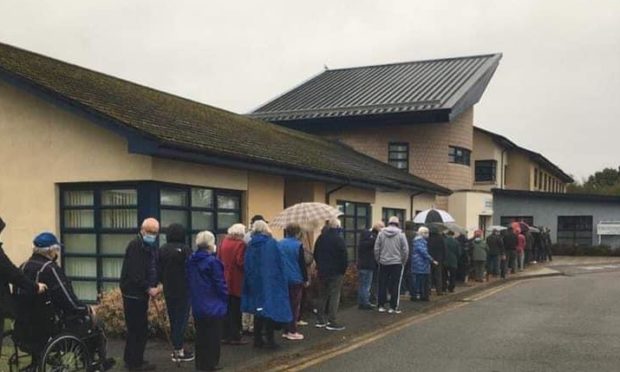 NHS Highland has been urged to improve arrangements for mass flu vaccines after around 200 people queued in pouring rain to get their injection.
A large queue built up outside Invergordon Hospital where a flu clinic was being held for 1,500 people on Saturday.
The health board said many people had arrived early or late for scheduled appointments which led to queues building up due to social distancing measures inside the building.
However, a local councillor said it was "unacceptable" to blame patients and said the NHS should not "pass the buck".
Health Secretary Jeane Freeman said she was in touch with NHS Highland "to find out what has gone wrong". She added: "We need to make sure this is not repeated. Meantime, my personal apologies to all those affected."
Saturday's clinic was held for over 65s only. Those eligible for the vaccination were sent a letter asking them to turn up between 8.30am and 3.30pm and advised not to arrive early as they would not be able to access the building.
Pam Dudek, NHS Highland's chief executive, said 1,500 patients have been safely vaccinated.
"The clinic was set up with 15 minute intervals between each set of patients being vaccinated to provide sufficient time for cleaning and to aid queue management and social distancing.
"The majority of patients arrived according to their appointment time; however, a number of patients arrived at the hospital prior to, or after their scheduled appointment times. This resulted in a number of patients having to queue outside due to physical distancing measures.
"People did not adhere to social distancing in this instance outside the hospital and it was also a dreadful day, so we can completely understand the concerns raised."
But local councillor Maxine Smith said she was disappointed in the response which appeared to pass the blame onto patients: "This is unacceptable. I've been contacted by several who saw her response and say it's simply untrue.
"Patients have been getting flu jabs for years and are used to turning up precisely on time. We then queue for 5-8 minutes and receive the injection. The last few years this has been in large gym halls where social distancing would have been easy.
"Rather than blaming patients for being early or late, which was absolutely not the case, they should look into the real problem which appears to have been a bottle neck around 9.30am.
"However regardless of that, even waiting up to 10 minutes in the cold and rain with a jacket is not ideal either. There are vulnerable and elderly adults involved and they need to be inside.
"I suggest the NHS makes new arrangements for its future mass injections. I know some people who have now decided not to have it after turning up and seeing the queuing situation.
"There needs to be proper information and a sensible appropriate approach to this by the chief executive. Don't pass the buck."
George Smith, who queued in the rain and took 45 minutes to reach the hospital door said it was "not a pleasant experience".
He said: "While I acknowledge that the coronavirus has complicated this year's flu jabs, I strongly reject NHS Highland's claim that the patients were to blame for the delay that caused the long queue."