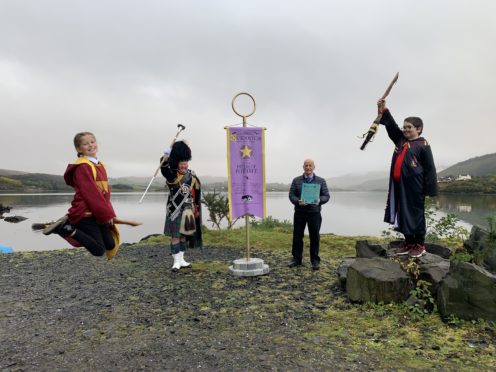 Skye might be famous for its shinty, but another legendary sport is snapping at its heels, albeit from the realm of sorcery.
Portree has been recognised as an honorary Quidditch Town for its Pride of Portree Quidditch team – one of only two in Scotland – and eleven across the four nations.
Its Quidditch commitment and prowess now feature in a new book, Quidditch Through The Ages Illustrated Edition, an essential companion to the Harry Potter series and guide to the wizard's favourite sport.
The book is written by JK Rowling and illustrated by Emily Gravett.
To celebrate its launch, publishers Bloomsbury yesterday presented the town with a decorative banner featuring gold Quidditch hoops and the Pride of Portree's signature gold star team crest.
Local councillor John Finlayson received the banner in an outdoor, socially distanced presentation at the Lump, with Isle of Skye Pipe Band's drum major Peter MacDonald and young fans Seamus MacDonald, 9, of Bun Sgoil Phort Righ and Eilidh Murray, 9, from Portree Primary.
During the presentation other young Harry Potter fans celebrated on their Nimbus 2000 broomsticks amid sweeping views of nearby hilltops and the harbour.
Eilidh said: "I'm obsessed with Harry Potter and dream of playing Quidditch, so I'm really happy to find out that I now live in an honorary Quidditch town."
Mr MacDonald said: "It's fantastic that Portree features in the new book and we hope people from across the world will come and visit our beautiful island village and experience the sights and sounds of the pipes and drums as we perform  during the summer months in Portree."
Mr Finlayson said he hoped Harry Potter enthusiasts will consider adding Portree onto their to-do list, easily done as an extension to their Fort William to Mallaig journey aboard The Jacobite steam train – otherwise known as the Hogwarts Express.
He said it remained to be seen where the banner would be put on display but it would be a decision made by the Portree community.
"Harry Potter's favourite sport Quidditch brings joy to children and adults across the world, and this decorative banner, emblazoned with the town's team colours, shows our support for our beloved Quidditch team."
Mr Finlayson, who is heavily involved with shinty in Skye, added he will gee up his shinty contacts in Newtonmore and Kingussie to get their own Quidditch team.
In the new book, JK Rowling writes that the Pride of Portree was founded in 1292.
She states: "The 'Prides' as they are known to their fans, wear deep purple robes with a gold star on the chest.
"Their most famous Chaser, Catriona MacCormack, captained the team to two League wins in the 1960s and played for Scotland thirty-six times. Here daughter Meaghan currently plays Keep for the team."
Chaser MacCormack is pictured on the front page of the Quidditch Times of  1964.
Fans can pledge their virtual allegiance to any Quidditch team by visiting the official Harry Potter fan club, Wizarding World (wizardingworld.com), to view the banners in-situ and uncover more information about each honorary Quidditch Town.
Honorary Quidditch Town presentations are also being held at prehistoric sites, stone circles, medieval castles, Roman forts and churches across the country.
Two fictitious Quidditch towns are also being honoured, Chudley Cannons and Puddlemere United.