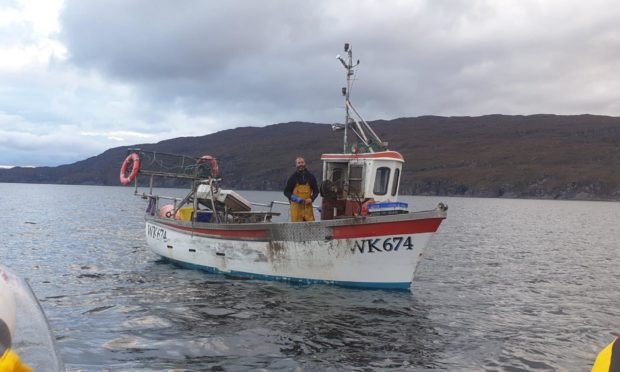 The occupant of a creel fishing boat earlier today set off a red flare after becoming entangled in creels in Loch Kishorn.
Kyle of Lochalsh lifeboat launched after the emergency beacon was spotted around 5.35pm.
One person was aboard the fishing vessel when it became stuck.
An update on todays @RNLI shout: Kyle lifeboat launched to a fishing boat in the Loch Kishorn area after it became entangled in creel lines. Full details: https://t.co/EJTPQcPNo1 pic.twitter.com/Uz9BqpRxP5

— Kyle of LochalshRNLI (@KyleRNLI) October 6, 2020
With no VHF signal in the area, a flare was used to draw attention to its location and spark an emergency rescue.
Two nearby vessels, the Spirit Level from Kishorn Port and the Stang Viking which was at a nearby fish farm, reacted to the call for help and provided assistance to the man and his vessel.
After establishing the man was fit and well, work began to free the ropes from the propellor which took around 10 minutes.
The fishing boat was able to make its way for Plockton under its own steam with the lifeboat standing down around 6pm.