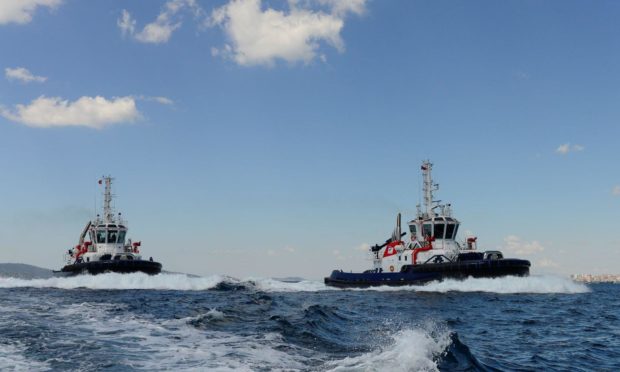 Orkney's two new tugs have been officially named Odin of Scapa and Thor of Scapa – celebrating the islands' rich Norse heritage.
The tugs were given their Viking-related names following a public poll of the islands' residents.
They will replace two of the three older tugs in the Orkney Islands Council fleet.
The two new 32-metre (105ft) tugs, which cost £6.1 million each, were built at Sanmar Shipyards of Turkey – a world-renowned tug building facility.
They arrived home to Orkney last month after a 17-day, non-stop voyage of 3,500 nautical miles.
Westray's Isobel Thompson won the honour of naming Odin of Scapa, while former long-serving employee of OIC marine services, Hazel Stephen, named Thor of Scapa.
OIC head of marine services, transport and harbourmaster Jim Buck said: "These tugs represent the confidence of Orkney Islands Council in the future of the islands marine industry.
"As the harbours authority, utilising our own resources and the income generated by successful attraction of  business to Orkney, we have managed to procure two of the most efficient, environmentally conscious tugs available on the current market.
"Odin of Scapa and Thor of Scapa represent a commitment to the people of Orkney to create sustainable, viable harbours with the ability to move towards a low carbon, green maritime future and these tugs are the first steps on that generational transition."
Councillor Graham Sinclair, chairman of OIC's development and infrastructure committee, said: "The naming of ships is always an exciting and memorable event and the naming ceremony today is no exception.
"It is exciting looking forward to all the new commercial opportunities for Scapa Flow that lie in the years ahead, and will become memorable as the crucial role of these powerful, purpose-built tugs becomes apparent."
OIC convener councillor Harvey Johnston added: "The naming of ships is an ancient maritime tradition that goes back thousands of years.
"It confers upon vessels an identity which often becomes integrated into local culture and folklore, and in this case has a tangible link with our Norse heritage.
"Odin of Scapa and Thor of Scapa will bear these proud names as they go about their business of facilitating safe and efficient maritime operations in Orkney waters.
"Today's naming ceremony marks the induction of these vessels into our fleet where they will not just maintain but enhance our high and well-earned reputation in the maritime sector."
The two vessels are the first examples of Sanmar's Kocaçay series – the Turkish shipyard's latest collaboration with Canadian naval architect, Robert Allan Ltd.