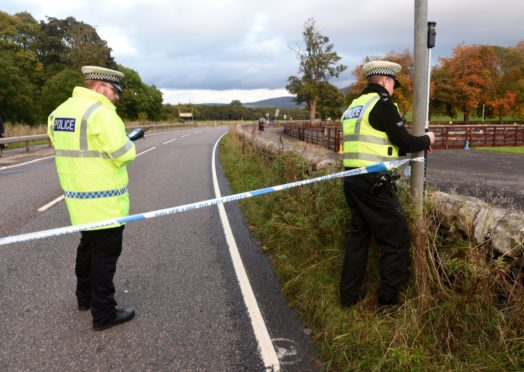 A 24-year-old woman has died following a horror two-car crash in the Highlands.
The crash occurred on the busy A82 Inverness to Fort William road near Borlum Farm on the outskirts of Drumnadrochit, around 3.15pm on Monday.
It involved a blue Citreon C3 and an Honda CRV.
The woman was a passenger in the blue car. The male driver of the vehicle is in a "serious but stable" condition in hospital.
A 56-year-old woman, who was the driver of the Honda, was also taken to Raigmore Hospital for treatment where hercondition has been described as stable.
Firefighters used hydraulic cutting gear to remove the roof of the Citreon.
A road closure was put in place for much of Monday afternoon before the route reopened around 9.30pm.
Sergeant David Miller, of the road policing unit, said: "Although we have spoken to a number of people who stopped following the crash, we are still keen to hear from anyone who saw the crash or possibly the cars on the road just prior to the collision.
"We're also looking for any dash-cam footage of the area at the time."
It is understood police are attempting to contact relatives of the 24-year-old.
David Fraser, chairman of Glen Urquhart Community Council, said: "The community council are always saddened to hear of any accident on the A82.
"Our thoughts are very much with the family and friends of the people involved in the accident.
"Road safety on the A82 is always on the agenda at all of our meetings and we are constantly looking at ways of improving the safety of the road.
"Any death on our roads is one too many and the community council will work in any way to prevent something like this happening again in the future."
Local councillor Margaret Davidson, who is also the leader of Highland Council, said: "I live on the A82 approximately seven miles from the crash site. We often see emergency vehicles heading west and every time I am thinking of where they are going.
"This was a particularly tragic accident and my sincere condolences go to all of the families involved, most particularly the family of the young woman.
"This area of the road has had accidents in the past and I will be asking the police and Transport Scotland to share the outcome of their accident investigations with the community and myself, and we can all look again to see if there are any road improvements or behaviour change we can do to prevent future tragedies."
Anybody with any information is urged to contact police on 101.