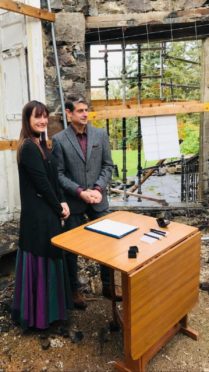 Hard hats as wedding accessories added to the unique feeling of a couple's big day amid the ruins of a historic Highland landmark.
Tariq Khan and Carmen Wagner tied the knot at Boleskine House, which is presently a large building site as it undergoes a major renovation.
The unusual surroundings proved the ideal setting for the historic building enthusiasts after their original plan to marry at Inverness Town House fell through due to Covid-19 restrictions.
At first, the wedding was to be held in the gardens of Boleskine House, overlooking Loch Ness.
But a day before the ceremony a Dangerous Building Notice, imposed after a fire devastated the building in 2015, was removed allowing them to hold the ceremony 'inside'.
The B-listed property is still largely a shell, with no roof, while work continues to rebuild it and turn it into a visitor centre.
The ceremony was conducted by a registrar, with two volunteers working on the renovations as witnesses.
All had to wear hard hats on the site, but were able to remove them for the wedding photographs.
The couple, who work in the audio visual industry in London, decided on a Highland wedding after falling in love with the area on holiday last year.
Mr Khan said Boleskine was an ideal alternative when they were unable to marry in the Town House.
"We chose our original venue as we are historic building enthusiasts, and the opportunity to marry in Boleskine was a once in a lifetime opportunity," he said.
"The Boleskine project is a symbol of hope for so many people across the UK about how our historic buildings can be conserved and the importance of preserving our heritage.
"We therefore really valued the chance to get married at the estate."
Boleskine House owners Keith and Kyra Readdy bought the famous building in 2019 and set up a foundation to rebuild the structure, previously owned by the Fraser clan, occultist Aleister Crowley and Led Zeppelin guitarist Jimmy Page.
Mr Readdy said: "It was a lovely ceremony. Hopefully they will be the first of many people getting married here."
He said the removal of the dangerous buildings notice was a "significant milestone" in the renovation and will enable work to continue towards installing the roof, expected in the spring.