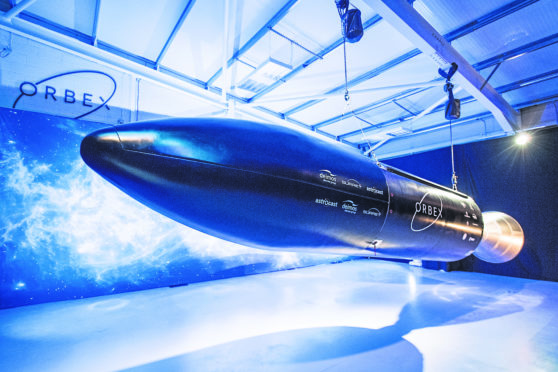 Rocket firm Orbex is sticking to plans to blast off from the far north, following the announcement an aerospace giant is switching its launches from Sutherland to Shetland.
The Forres-based company said yesterday Lockheed Martin's decision would "significantly simplify" its own operations at the proposed £17.3million spaceport, near Tongue, from where it intends to start sending small satellites into orbit in 2022.
Orbex and the US firm were named as the main customers for the Space Hub Sutherland facility when its development was announced by the UK Space Agency (UKSA) two years ago.
But this week it emerged Lockheed Martin, with the UKSA's backing, will now use the planned Shetland Space Centre (SCC), on the island of Unst, for its launch programme.
Orbex opened a factory to build its Prime rocket in Moray last year and also plans to base its mission control activities there. Earlier this year the company was awarded £1.5m funding from Highlands and Islands Enterprise (HIE) which is also leading development of the Sutherland facility.
An Orbex spokesman said:  "Space Hub Sutherland, which has already received planning consent from Highland Council, remains Orbex's preferred UK launch site.
"Having contributed in detail to the plans that have already been approved, we know that Sutherland is perfectly suited to the needs of the Orbex Prime launch vehicle.
"We expect construction will be able to start in early 2021 and we look forward to the first UK orbital launch taking place from Sutherland during 2022."
He added: "After numerous discussions behind-the-scenes over the past 18 months we are pleased to see our colleagues in the UK Launch grant programme have found an alternate site for their American-built rockets.
"The relocation of that larger project significantly simplifies operations at Space Hub Sutherland, allowing us to focus on UK-led operations and regulations."
Lockheed Martin's decision signalled a potential space jobs boom for Shetland, with predictions of 140 posts being created on Unst and a further 210 elsewhere in the islands.  SCC is expected to submit a formal planning application to develop the facility later this year.
HIE's deputy chief executive Carroll Buxton said the UKSA's confirmation of Lockheed Martin's plans was "great news for Shetland".
She said:  "It demonstrates the scale of the opportunity presented by the growth of the UK space sector, and the Highlands and Islands has significant natural advantages to support commercial launch activity.
"Our region is already establishing a strong foothold in the sector – Orbex set up a design and manufacturing facility for their launch vehicle in Forres last year, which demonstrates the potential for this new industry to create jobs, and Space Hub Sutherland achieved planning permission in August 2020.
"In addition, there are plans for both the Western Isles and the Kintyre peninsula to pursue specific launch-related opportunities.
"The UK Space Agency's decision is a vote of confidence in Shetland and in the potential of our region to help build a diverse and innovative space sector that has tremendous potential to generate high quality jobs and training opportunities, particularly in remote and rural areas."